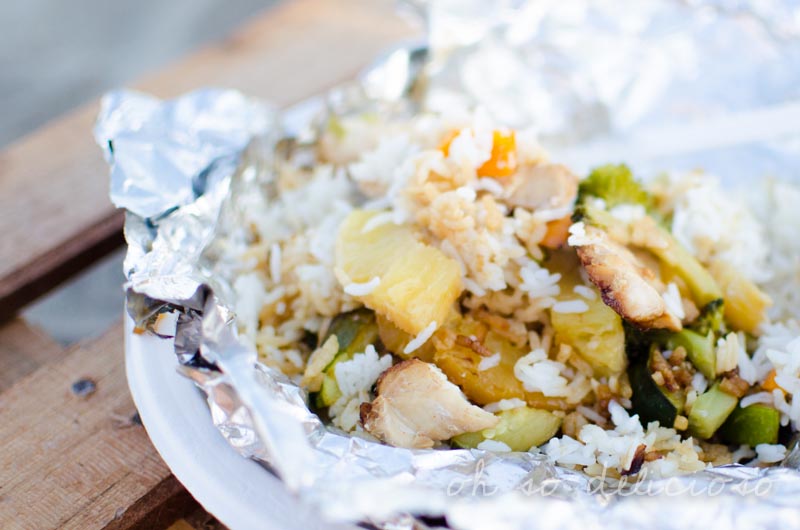 Hello Friends! Have you noticed anything different about our site??! Our long renovations are finally wrapping up. We are fine tuning a few kinks and loving the fantastic indexing. And thank goodness. (Who knew it was so intense to build a website?!) We are ready to get back to the kitchen and parties making up fun recipes. We hope you enjoy the new site and are always open for feedback!
Let us know what you think!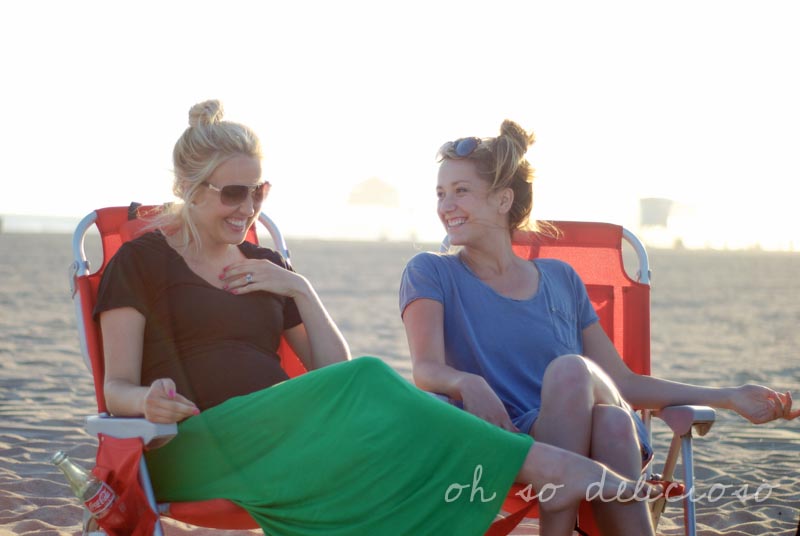 All of us girls live in Southern California and within 20 mins (sans traffic) of two beautiful beaches. Huntington- the surfer camping beach and Newport- the upscale getaway boat beach. We tend to frequent Newport more, 56th street to be precise. Less windy. But nothing beats the loads of free parking at Huntington 9th. My favorite beach in this area is Laguna. Absolutely. Amazingly. Gorgeous. Just gorgeous. Beach days are wonderful. In the summer, us mommas have a beach day and hit them up at least weekly. Once in a while we will turn the beach day into a beach afternoon/evening and wrap up with a bonfire. Huntington is the best for bonfires. Just left of the pier, hundreds of fire pits stretch long with the coast line.
Don't even think about trying to get one of these pits if it is a holiday. Forget it. Unless you are camping out and staked it out like a hound dog. During the week and off-season though, they are pretty open. We grab two when we can. One for smoldering coals, perfect for foil dinners. The other for a grand bonfire. There is sometthing dreamy about the cool salty breeze mixed with the smell of sunkissed skin and sunscreen. The kids wrapped up in blankets, snuggling warm by the fire. The amber blue sun setting on the rolling sea. If someone brings a guitar, the evening is gold.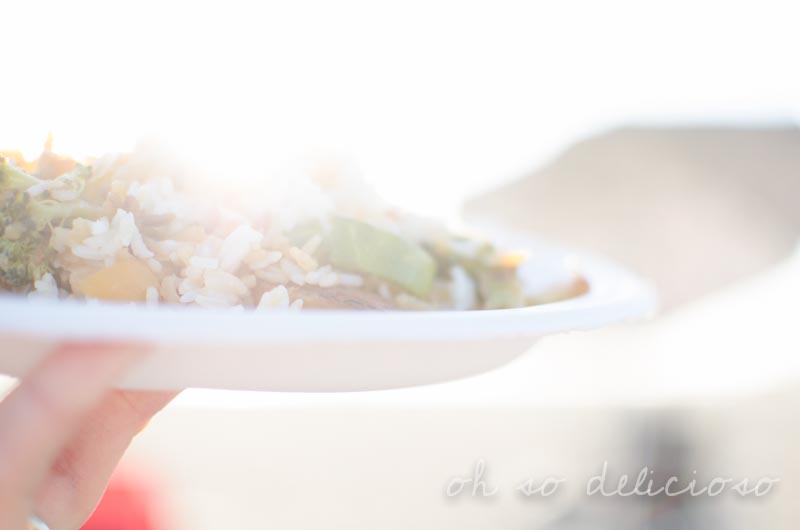 After a day of  frisbee, body boarding, sand castle making, sand crab digging.. everyone is starving. The beach seriously works up an appetite. Foil dinners are so satisfying and easy to bring. Prepare them ahead of time and they keep well on ice for the day. Wether at the beach, camping, or in your backyard- cooking dinner is delicious. Smoky infusion just can't be duplicated. We have done many tin foil dinners. The typical hamburger patty  covered in potatoes or hash browns and loaded with veggies is wonderful. I decided to mix it up this time.. (I thrive on change). I went for a teriyaki chicken smothered in sweet pineapple, veggies and rice. I was worried about the precooked rice.
Didn't want it to overcook, but let me tell you. It turned out perfect.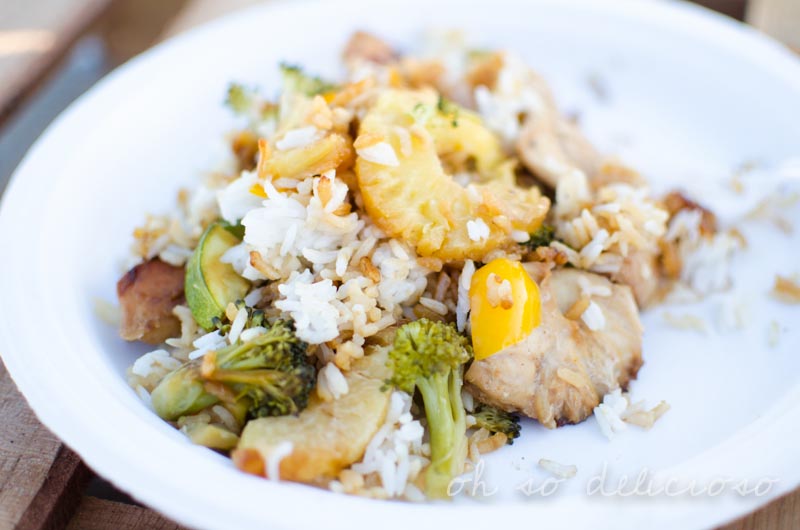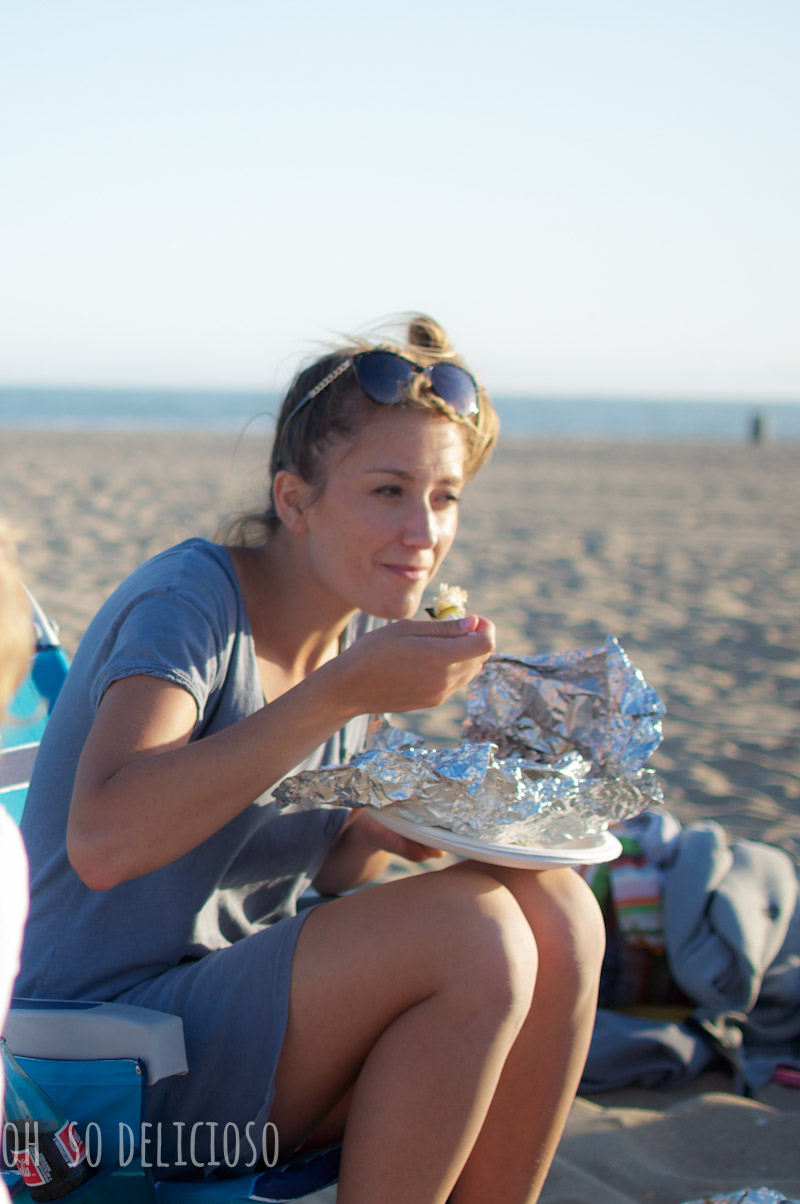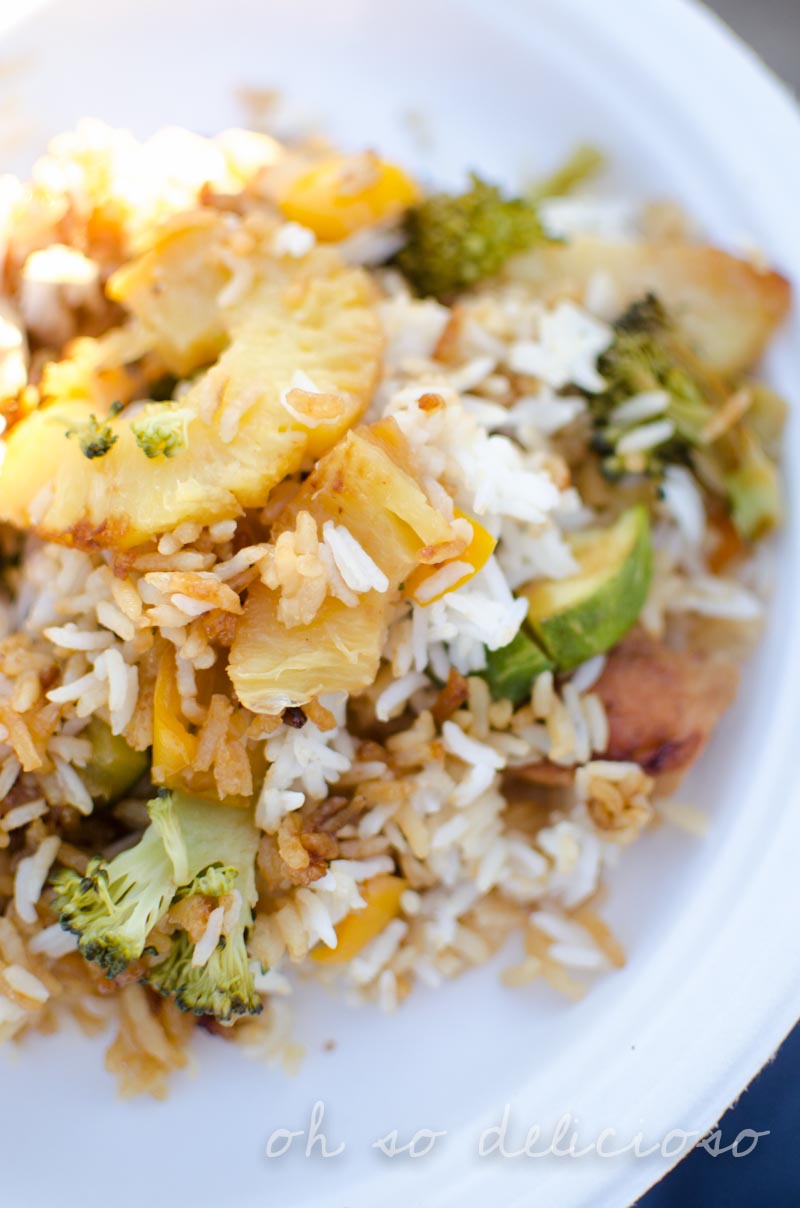 yea... don't mind my hair.
To make this foil dinner, start out by cutting 3-4 chicken breasts into strips and marinating them in Yoshida's Teriyaki Marinade. Precook 2-3 cups of rice. You will end up with about 4-6 cups of rice. Chop up whatever veggies you may like. I did bell pepper, onion, broccoli and zucchini. Take two long pieces of foil and criss-cross them ( + ), then grease. Place a few pieces of chicken down first. Then cover with 2-3 slices of pineapple. Add in your veggies and generously cover in rice. Top with a little more marinade. Fold up your foil one piece at a time. Seal and open edges. The double foil protects the food from sand in case of any accidental punctures or tears. Gritty food is no bueno.  Place food over coals and allow to cook for 15-30 minutes, depending on the heat intensity of your coals. Flip once during the cooking time.
I made about 10 foil dinners for this last bonfire and had a few varieties. I labeled them by number and wrote on a card what each number was. I've done names before but they seem to be hard to read after being crunched and turned. This number system worked well.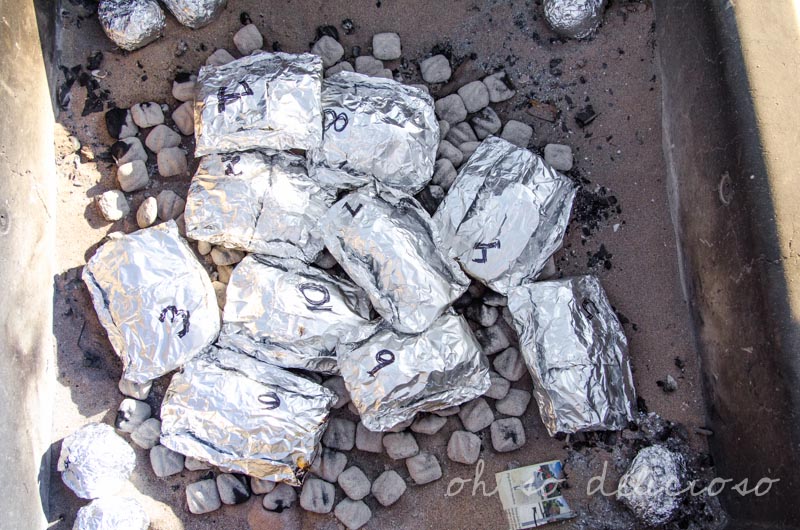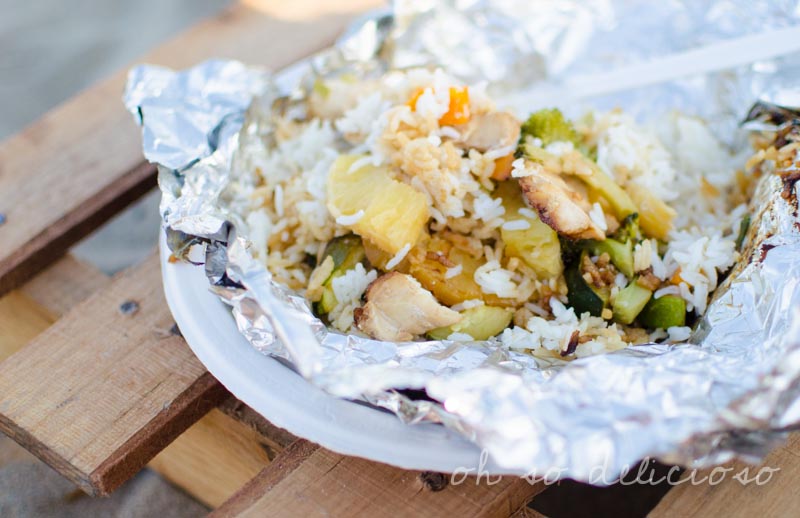 Stay tuned for more bonfire night fun recipes! This is just the beginning :)
Teriyaki Chicken Foil Dinner
A fun and easy dinner all made in foil parcels. This Teriyaki chicken is bursting with flavor and is sure to please the whole family!
Print
Pin
Rate
Ingredients
3-4

chicken breast

cut into strips

1

bottle

Yoshida's Teriyaki Merinade

2

cans

pineapple slices

2

bell peppers

1

small onion

1

zucchini

2

small heads of broccoli

4-6

cups

cooked rice
Instructions
Marinade strips in ¾ths of the teriyaki marinade for a few hours in fridge.

Cook 2-3 cups of white rice o yield 4-6 cups.

Chop veggies into bite size pieces. *Broccoli and zucchini are optional.

Layer 2 long pieces of foil in a plus shape +. Coat with non-stick spray.

Layer a few pieces of chicken, on the top piece of foil. Cover chicken with 2-3 slices of pineapple.

Cover with veggies and then generously spoon rice over all.

Drizzle a little more marinade over rice.

Fold up both ends of foil so there are no leaks and label if desired. Store in ziplock if worried about leaks and over ice till ready to cook.

Flame coals and let burn til grey, turning occasionally.

Spread coals to a single layer and place dinners over coals.

Allow to cook 15-30 mins or until chicken is cooked. Careful not to scorch.
Nutrition
Calories:
645
kcal
|
Carbohydrates:
92
g
|
Protein:
56
g
|
Fat:
6
g
|
Saturated Fat:
1
g
|
Cholesterol:
108
mg
|
Sodium:
4139
mg
|
Potassium:
2197
mg
|
Fiber:
11
g
|
Sugar:
28
g
|
Vitamin A:
3920
IU
|
Vitamin C:
362.7
mg
|
Calcium:
215
mg
|
Iron:
5.4
mg