Pot Roast smells like Sunday, and Sunday smells like Pot Roast. Even our dog knows when it is Sunday, because she gets a special treat of pot roast and gravy on her doggie food. It's a Sunday tradition that has been passed down from generation to generation on my mom's side of the family. They even all use the same roasting pan (pictured below). It just how we do it. How my mom does it. Her mom did it, and her mom did it....you get it :) Granted, it's not like we did it EVERY Sunday, but pretty dern close to it. Since we ALL loved this meal everyone would ALWAYS come down to eat after their Sunday naps. Which afforded us lots of great family dinners....I have vivid memories of my dad getting after Aubrey for singing too much at the table and my brothers...well being boy and lack of manners at a fancy table. I always was snarfing down way too many potatoes and gravy (that's always my favorite part) and adding a little extra salt to my meat.
I've heard a lot of excuses about how friends don't cook roasts on Sunday because we shouldn't work on the Sabbath… but honestly I don't know an easier meal. Throw a piece of meat in the oven to slow cook for 3 hours, open the pan up and eat it. I've added a few more steps than what my mom does, but it's still in the oven in under 15 minutes. Often my mom would make rice (much simpler than potatoes) and we would pour the gravy on that. Then the boys did the dishes….always by force.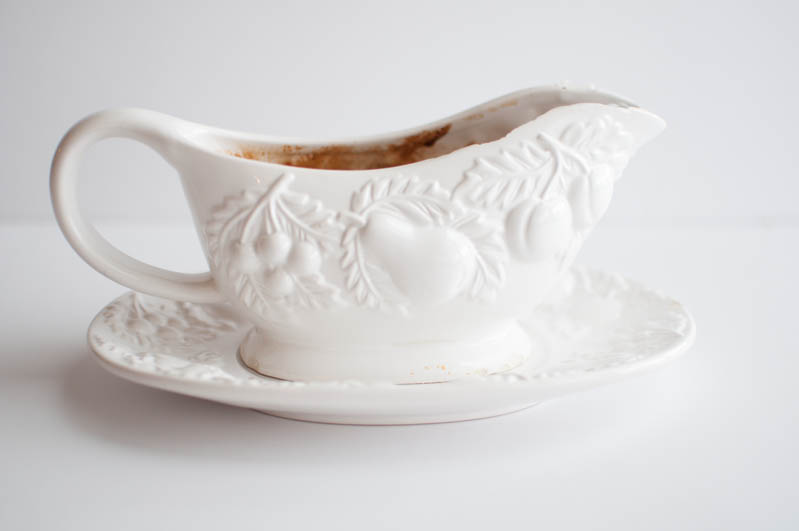 Tips on buying Pot Roasts
I really like Costco's pork and beef roasts. They are the leanest tenderest roasts out there, and VERY affordable. The pork roasts come 4 roasts for about $15. One roast is more meat than my family of 6 can eat. I also often will grab the Beef Roasts from Costco, (they come in a two pack) and cut them in half, wrap them in foil and will have 4 roasts ready and waiting. oh baby. 
I know crock-pot/slow-cooker, pressure cooker is a popular way to make a tender roast. but I'm telling you- it is NOT the same. Roasted in the oven you get a nice salty, slightly crispy crust and a juicy savory melt in your mouth inside. 
So you if you are sworn to your crock pot, I beg you to try this out. I think you and the man in your life will never let you go back.
Step one: Half your onion (I know two seems like a lot of onion, even if you LOATHE onions you HAVE to put them in, just TRUST me on this one.) Slice your carrots and in a little EVOO brown your veggies and sausage.….set aside.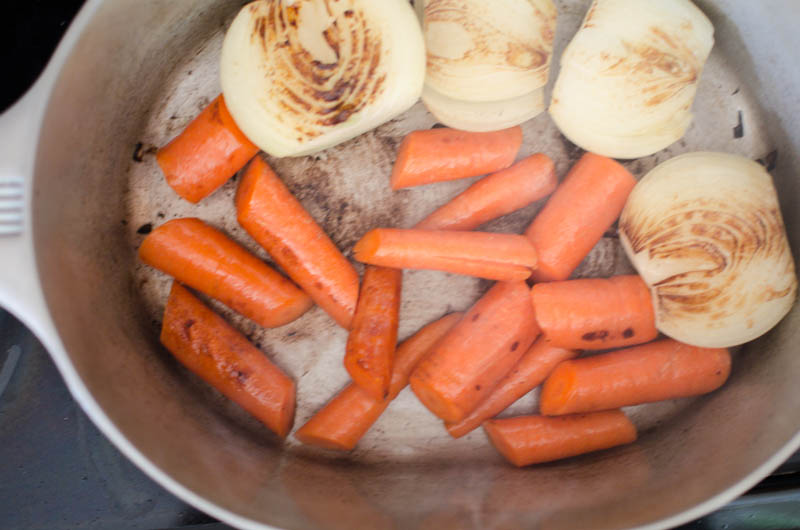 Step two: Heavily salt both side of your roast, and brown the same way as you did your onions and carrots. Sausages too.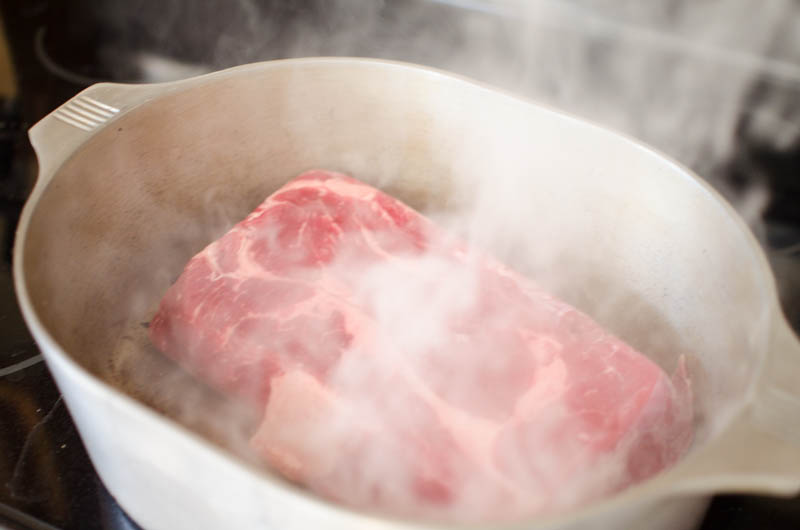 Step three: With your pan still on high, pour half a can of beef broth and whisk whisk whisk- deglaze the pan, get all that juiciness off the bottom and into that broth. Once the bottom is smooth add roast and all ingredients in around roast. Add all broths and herbs too. Now, cook slow for about 3-4 hours.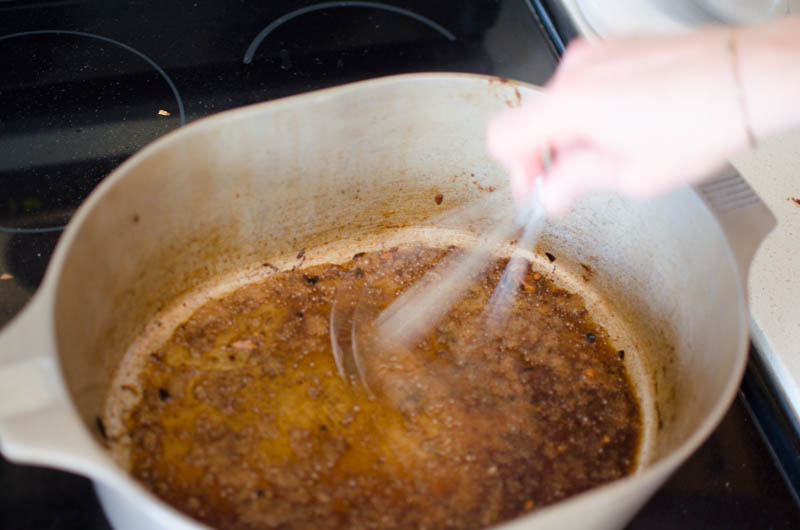 ** Let me take a minute and talk sausage. The sausage in the picture is not my favorite, I personally like to use Hillshire Farm Fully Cooked Smoked Sausage. I can be picky about sausage (my brothers, not so much!), some sausage is just to greasy for my taste and will also leave that grease in your broth for gravy. All sausage will add great flavor, but the Hillshire Farm fully cooked doesn't add the grease...you can find it in the same refrigerated section as the packaged lunch meat.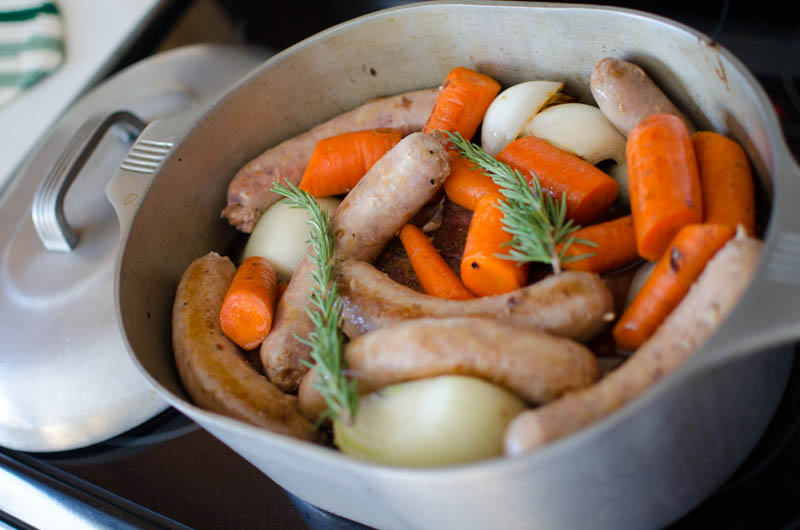 While the roast is cooking, take a nap. Read a book, go to church. Then cut some potatoes and get the boiling.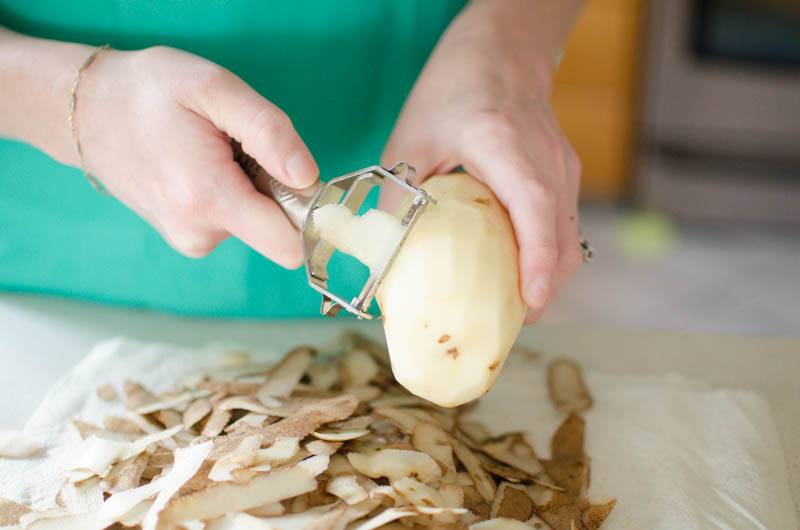 When roast is done, pull it out and let it rest for about 20 minutes before cutting into it. DO not disgaurd the juices in your roasting pan. You NEEEEED ALL of it for your to-die for gravy. 
I have a friend who always tells me she doesn't know how to make gravy, and I'm so grateful for my mom teaching me this when I was young, it was often my job of the meal. it's kind of an annoying job- lots of whisking- so you can hand it off to your teenage daughter too. She can do it juuuuust fine. Even though its annoying its SOOO EASY, and I keep telling my friend that. Homemade gravy is SO SIMPLE and much much tastier than packaged.
Now, enjoy your perfect meal. Doused in gravy, and don't forget to share with the dog. please. :) They will love you for it…..it's not like their love is unconditional anyway, wink wink.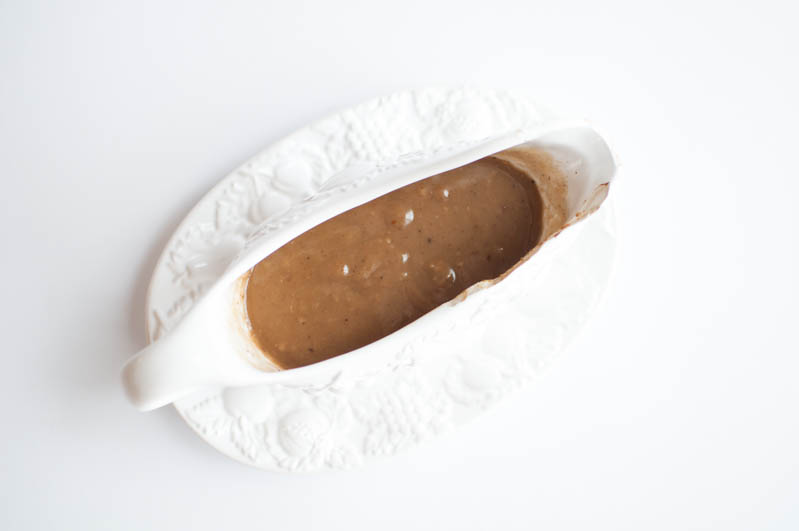 Perfect Pot Roast and Gravy
The meal that screams "Sunday" and "family".
Print
Pin
Rate
Ingredients
one 3-4 pound beef or pork roast


1

can beef broth


1

can beef consume

or two cans beef broth


2

large onions


4

large carrots


1

sprig fresh rosemary


1

hillshire farm fully cooked smoked sausage


2

Tablespoon

olive oil


2

Tablespoon

salt


¼

cup

flour


1

cup

cold water

Instructions
Roast:
Cut onions in half, and carrots in quarters, in your roasting pan, on high heat brown carrots, onion, sausage on all sides. Take out and set aside.

Use one tablespoon of salt on each side of your roast and brown in roasting pan following the vegetables.

Leaving pan on high, add half a can of beef broth and whisk until the bottom of pan is smooth.

Add all ingredients except water and flour to pan.

Cover and bake in oven at 275. one hour per pound. (3 hours for a 3 lb. roast, 4 hours for a 4 lb roast)
Gravy:
Remove roast from pan, and pour all liquid into a med saucepan.

Strain or remove any clumps, bring to boil

In a separate bowl combine water and flour and whisk until smooth.

Once broth is boiling very very slowly add four mixture to pan, while whisking. Continue mixing entire time- after about half of the mixture is added let boil for a minute or two to test the gravy's thickness. if you like your gravy thicker add more flour water. Add until gravy is at your desired thickness. If you, for some reason have a lot of broth you may need to double your flour/water measurements.

After gravy has reached desired consistency turn heat down a little bit and continue whisking for another minute. Taste test gravy to see if it need a little extra salt.
Nutrition
Calories:
749
kcal
|
Carbohydrates:
69
g
|
Protein:
15
g
|
Fat:
46
g
|
Saturated Fat:
10
g
|
Cholesterol:
46
mg
|
Sodium:
14711
mg
|
Potassium:
1226
mg
|
Fiber:
11
g
|
Sugar:
20
g
|
Vitamin A:
40765
IU
|
Vitamin C:
30.7
mg
|
Calcium:
131
mg
|
Iron:
3.3
mg