Tacos are amazing right? You really can't get sick of tacos. They are so versitle. Besides from the party in your mouth -they are low fat, low carb, easily gluten-free, and easily vegetarian too for that matter. I LOVE tacos. I love corn tortillas with just carne asada, onions and cilantro or piled high with meat, cheese and veggies.
Rubio's Grilled Chicken Taco Love
I have a problem with Rubio's grilled chicken tacos. Seriously crave them every time I go out. It's soo worth getting a fresh taco than a greasy hamburger. Ok – maybe a little more money. I keep wondering why on earth am I stuck on these Rubio's tacos? So I went out and ordered more, and a few more after that, haha! I love the smoky grilled chicken, smooth avocado, fresh crunchy lettuce and topped with a creamy chipotle sauce. It seems like I can do everything but the sauce at home. So I set out to make a copycat chipotle sauce. SOOO happy at the results – you are going to love it too – especially if you don't have a Rubio's near you –  you can make your own.
The Sauce Is The Boss
I tested this out with some friends, them not knowing what or why. I just laid out all the taco toppings and let them choose what they wanted. They all put the pinkish sauce on their tacos – despite no description of what it was. After they had emptied their plates (and before they went back for seconds) they said they loved looooved the tacos. They especially commented on the sauce "that sauce is AH-MAZING" to be exact.
You will want to thaw some chicken and slap it on the grill for a few minutes. Then pile with cheese, avocado/guacamole (DON'T LEAVE OUT THE AVOCADO!), lettuce, (chicken of course) homemade salsa (use this recipe) or this pico and top with the creamy chipotle sauce. The sauce is the boss.
Here's a visual of what chipotle peppers in adobo sauce looks like. For super spicy tacos you could blend one of those peppers in the sauce, but without the pepers there still will be a little kick.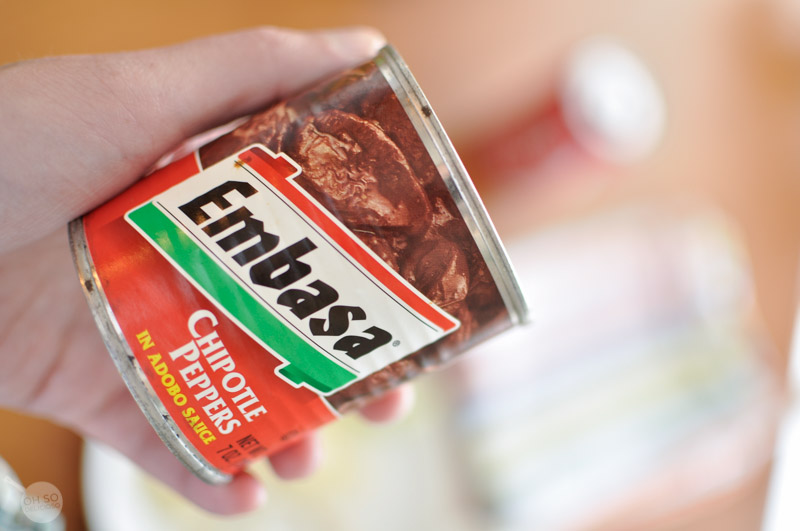 La Tortilla Factory Tortillas
Growing up my mom and grandma always made ground beef tacos with store bough seasoning.  Don't get me wrong – I still enjoy those tacos, but when I became a young adult and tried real tacos I was converted.  I've tried to serve different tacos to my mom and she still insists that her ground beef ones are the best tacos out there, ha ha!  I was completely reminded of my mom when I saw La Tortilla Factory's #AbuelitasUnimpressed campaign.  Their youtube videos are hilarious.  They are running a competition right now where you can enter to win La Tortilla Factory products for a year – who wouldn't love that?!  You could make all of our taco recipes for the next year and have very happy tummies.  For all of the details click HERE. Competition ends on 8-30-17, so go now.
La Tortilla Factory are truly one of my favorite tortillas!  They are perfect in this recipe and others.  For this recipe I used La Tortilla Factory's Non-GMO Hand Made Style tortillas.  They are soft and deliciously authentic.  To find them at a store near you, check out their store locator.
Grilled Creamy Chipotle Tacos
Ingredients
Creamy Chipotle Sauce
1/2

cup

Mayo

1/2

cup

Sour Cream

1/2

tsp

garlic salt

juice of one lime

2-3

T

chopped fresh cilantro

1

T

of adobe sauce from a can of chipotle peppers in adobe sauce<

2

T

milk
Chicken Seasoning
4

chicken breasts

1

tsp

garlic powder

1

tsp

onion powder

1

tsp

cumin

1

tsp

seasoned salt

1

tsp

chili powder

1/2

tsp

chipotle powder

juice from one lime
Taco Toppings
corn tortillas

shredded cheese

lettuce

salsa or pico

avocado or guacamole
Instructions
Creamy Chipotle Sauce
Wisk together ingredients and serve over tacos
Grilled Chicken
Combine all ingredients in a gallon sized ziplock bag.

Marinate at room temp for 30 minutes.

Grill over medium-high heat until cooked thru.

Let rest 5 minutes and slice into bite sized pieces.
Taco Assembly
Layer as follows:

Warm Corn Tortillas

Cheese

Grilled Chicken

AVOCADO!!! (a must!!)

Creamy Chipotle sauce

Lettuce

Salsa
f91258cf42f2e09f86107daf68438448bf3f355b4635fe7e90
SaveSave
SaveSave