I am a sucker Mexican food. I crave the tangy salsa and tart lime over cilantro covered tacos on a regular basis. My hubby doesn't even need to ask where I want to go out to eat lately, he know it doesn't matter so long as it is Mexican. I used to be an all-Italian kind a girl, but lately I'm feeling more like the chacha.
One of my favorite quick Mexican meals is Huevos Rancheros.  And don't ask me what the name means or where it was derived from… the best that google could give me was "Ranch Eggs" or "Eggs" and "I am a rancher"  In my imagination some farmer named Juan Pablo decided to created a signature dish with his ranch eggs and the name stuck. (I do not have a celeb crush on any soccer players, just fyi).
The essential dish of Huevos Rancheros consists of a fried or baked corn tortilla, a fried egg and salsa.  It can be dressed up with refried beans and cheese. I've made the over simplified version with store bought salsa, it was alright but this method is by far my favorite.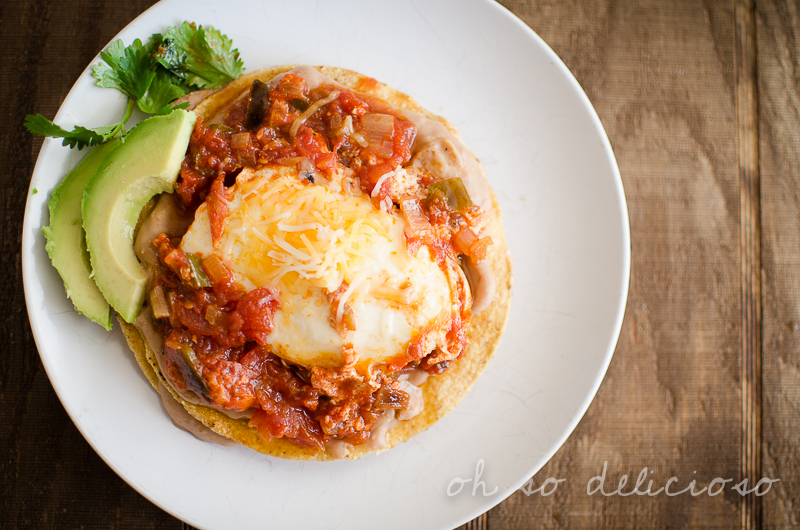 Instead of frying my eggs, I poach them.  The eggs poached in the salsa are so much more flavorful than fried. Cooking the eggs in the salsa allows them to soak up the flavors.
While developing the written recipe I wanted to share I tried a few different versions- one with store bought salsa, thinned with a little veggie broth, brought to a simmer and eggs poached in the liquid. This was tasty but I wanted a more fresh approach. So then I tried sautéed veggies (bell peppers, onion, tomatoes etc.) with a little broth and poaching the eggs.  Great flavor but poor consistency. SO I finally came up with a happy medium. AND I love it. It is simple, has great flavor, a little spice, and the perfect texture.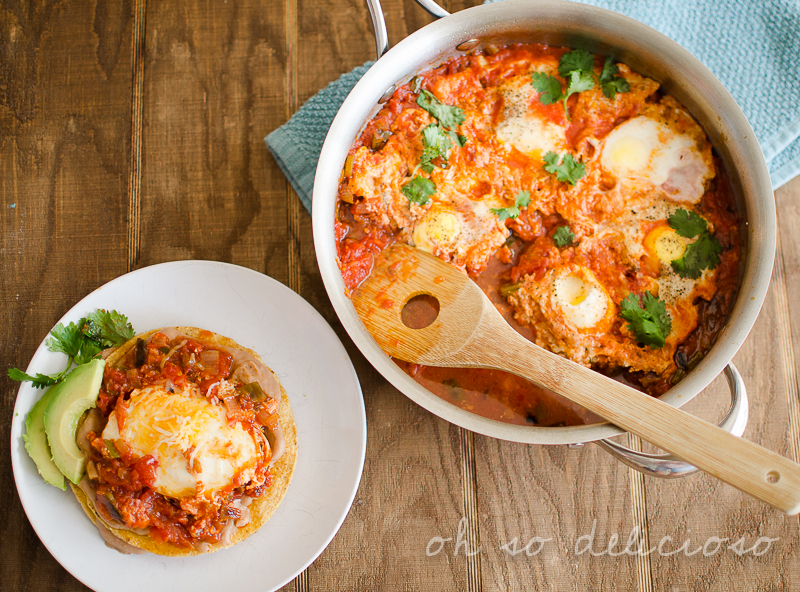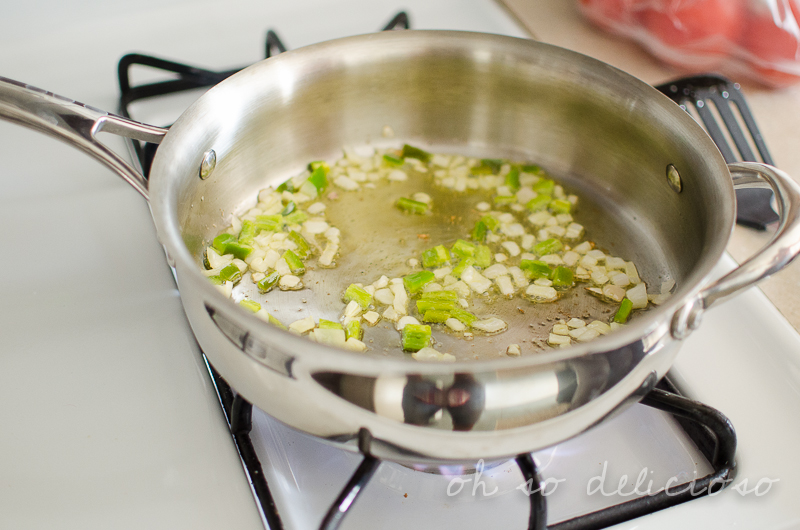 I started with sautéing 1 minced jalapeño and shallot in a little EVOO.  I went with a shallot for the nice mild flavor of garlic and onion.
While the veggies were softening, I pulsed Mexican style stewed tomatoes in a blender a few times to break up the tomatoes and create a creamier texture. Then added that to the skillet. Bring this to a simmer let the flavors develop for about 10 mins. The tomatoes have a fuller flavor the longer the simmer.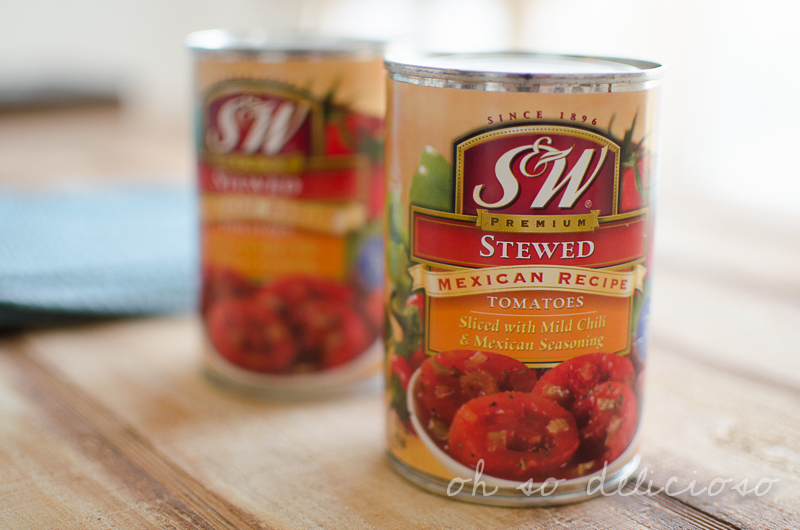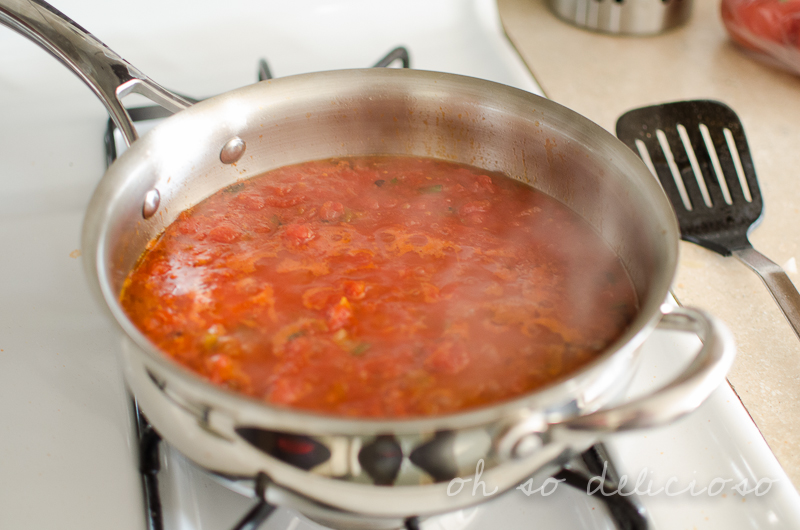 To poach the eggs, gently crack them directly into the simmering salsa. I started with four eggs and realized I could fit a few more and ended up with six in the skillet. Sprinkle with a little salt and pepper, reduce heat to a medium/low cover and simmer.  I prefer my yolks less running so I simmer longer, about 6-7 minutes.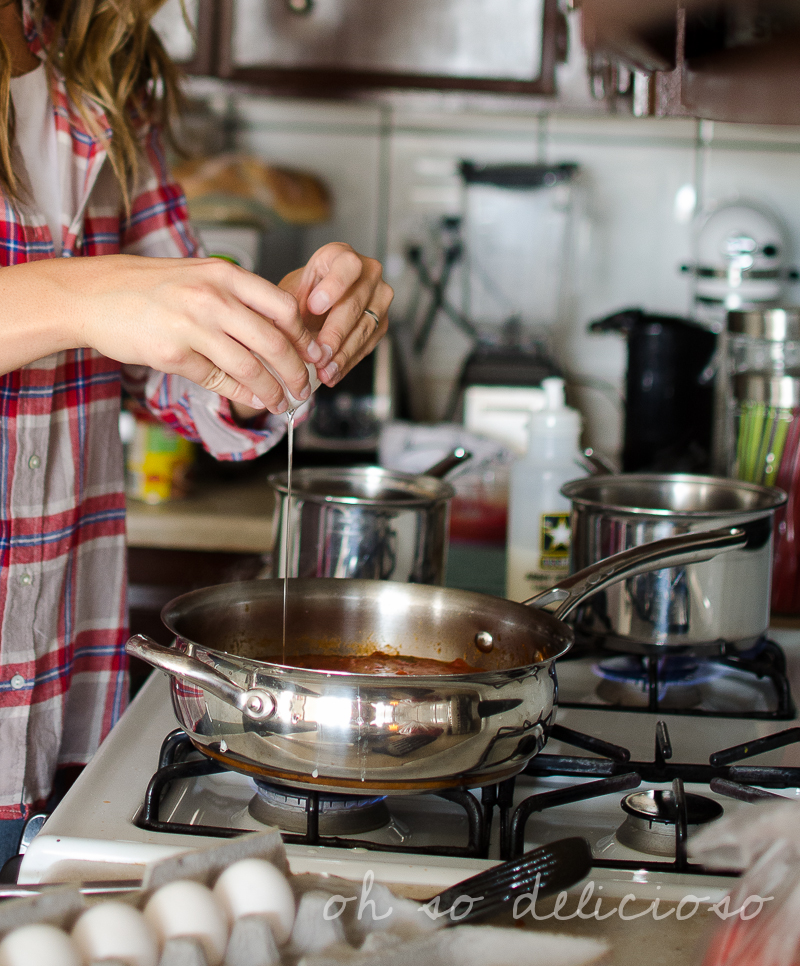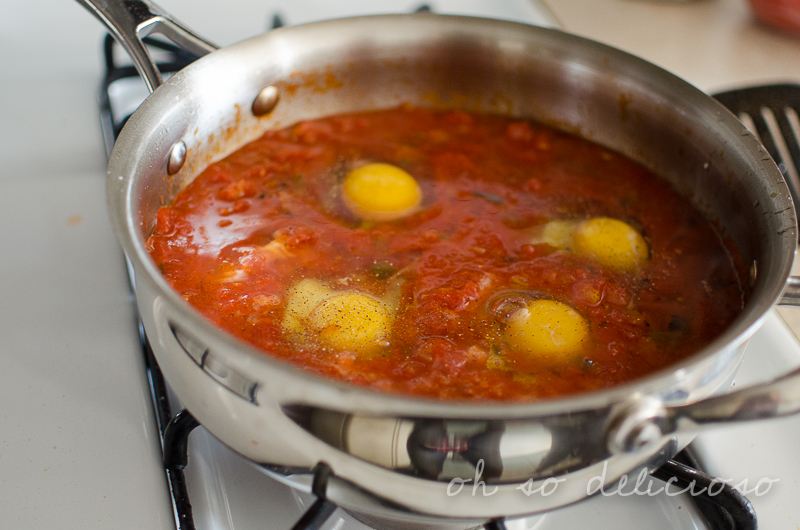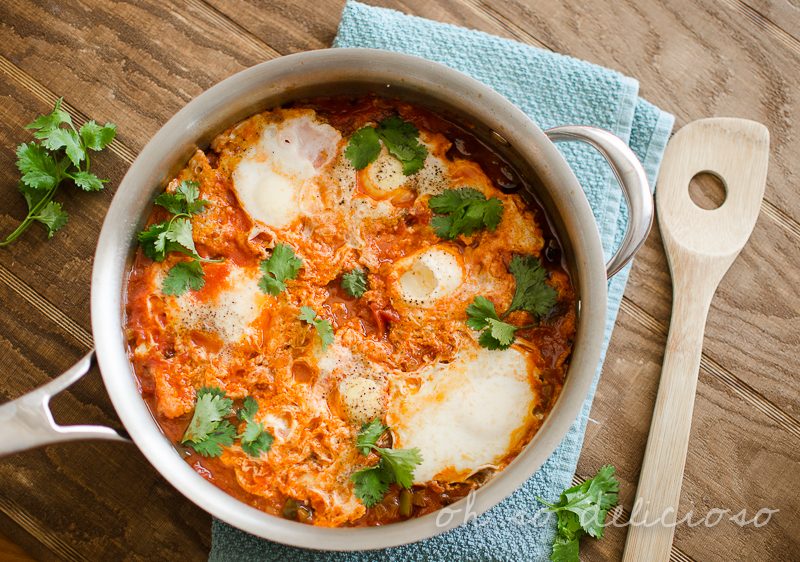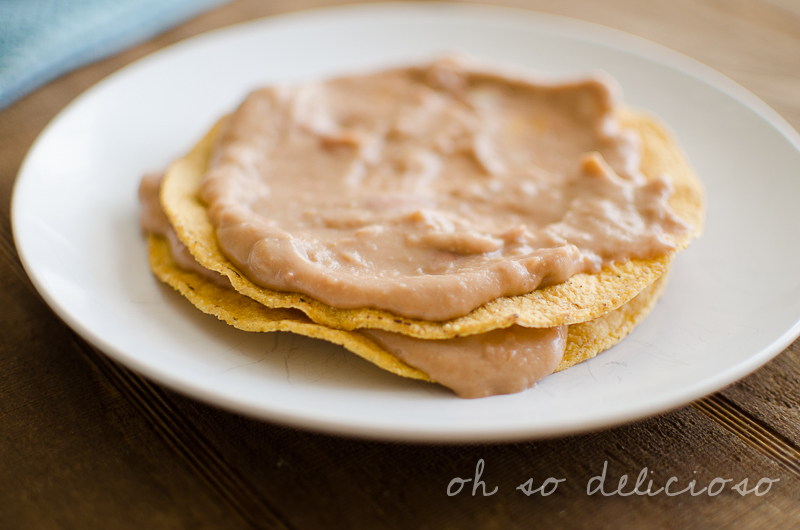 For my refried beans, I just used canned but dressed up a little. I like to warm mine over the stove after thinning with milk. I add in a little pepper, cumin, garlic powder and sometimes chili powder. The beans can be a stand-alone dip flavored like this. (yu-um)
Layer the fried crispy corn tortilla with refried beans and scoop out a poached egg and add some salsa on the sides. I sprinkle a little cheese while it's still hot. Add some avocado and cilantro on the side and you are complete. 20 mins max from start to finish.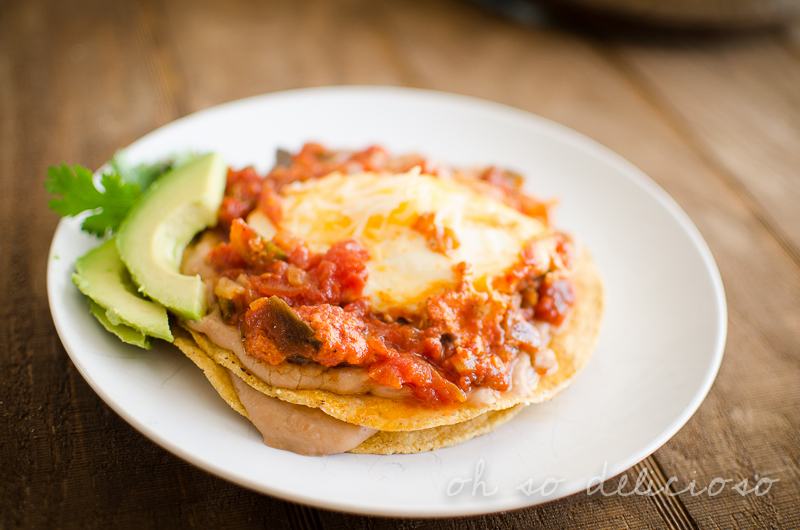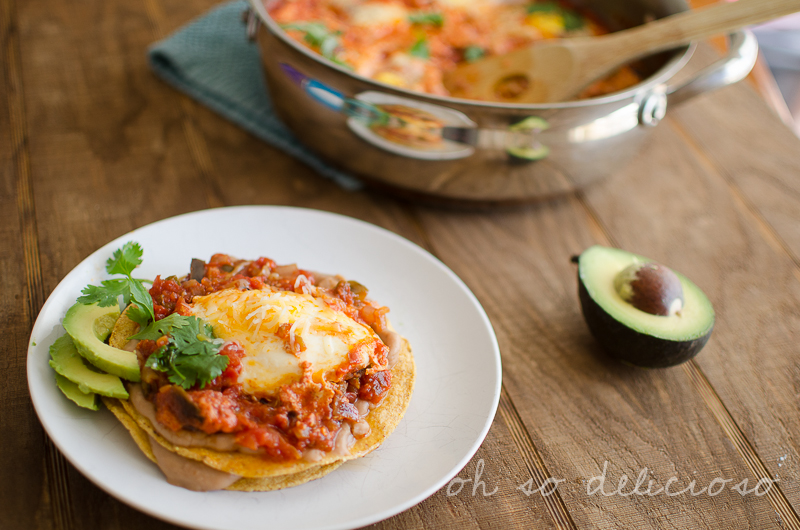 Really such a simple dish that is rich and satisfying. We eat this for any meal of the day and I love this technique of poaching the egg in the salsa. Flavor to boot!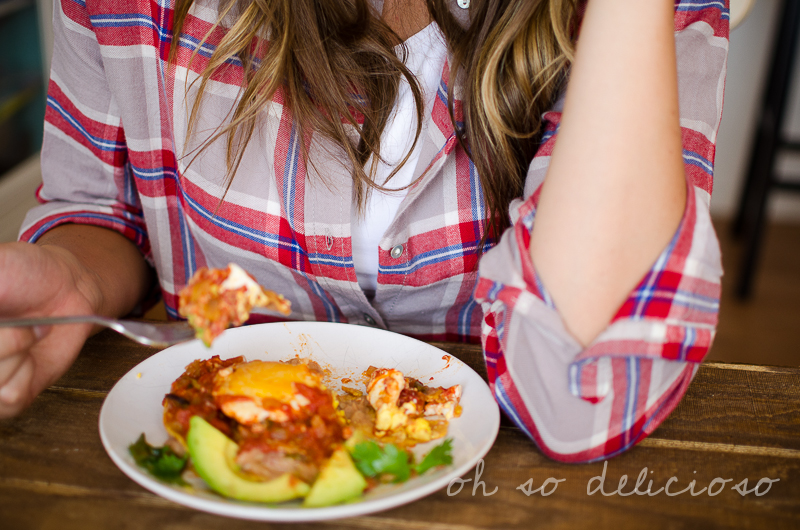 Poached Huevos Rancheros in Simple Salsa
A simple yet incredibly delicious breakfast recipe, these Huevos Rancheros are a Mexican favorite that also make a great brunch or dinner!
Keyword:
Huevos Rancheros, Mexican Eggs, Ranch Eggs
Ingredients
4-6

eggs

1

jalepeno

1

shallot

1

T

EVOO

2

cans / 15 oz

Mexican Stewed Tomatoes

Refried Beans

Corn Tortillas

Avocado

Cilantro

Cheese
Instructions
Mince jalepeno and shallot, then sauté in a saucepan with evoo.

Pulse both cans of stewed tomatoes and juices in blender 5-7 times. Or until small pieces remain, not pureed.

Add to skillet, mix and allow to simmer about 10 mins.

Crack eggs gently into salsa, season with salt and pepper, cover and allow to simmer until desired doneness is reached. About 6-8 minutes for no yolk.

For canned refried beans, warm in a sauce pan and thin with milk.

Add cumin, garlic salt, pepper and chili powder to taste.

Layer corn tortillas with refried beans and scoop out poached egg and salsa on top.

Garnish with cheese, cilantro and avocado as desired. Totally enjoy!
Nutrition Facts
Poached Huevos Rancheros in Simple Salsa
Amount Per Serving
Calories 127
Calories from Fat 63
% Daily Value*
Total Fat 7g 11%
Cholesterol 163mg 54%
Sodium 298mg 12%
Potassium 301mg 9%
Total Carbohydrates 8g 3%
Protein 6g 12%
* Percent Daily Values are based on a 2000 calorie diet.