Every time I walk into the grocery store during the summer months I can't get enough of that amazing aroma of fresh peaches!  I can't help but buy some EVERY time!  I love those sweet juicy peaches in the summer!  Such a treat!  After one of my peach shopping sprees I got this idea that I should whip up some peach lemonade!
We Love Lemonade
Lemonade is kind of a favorite around here!  Check out our classic lemonade and our strawberry lemonade for a little more lemonade inspiration.
The tart lemons and the sweet peaches are a perfect combination for a refreshing summer treat!  And whipping this up is easier than you think! You're going to want to make up a big pitcher of this and sit back in your lawn chair and enjoy the summer.
Here is what my helper was doing while I was giving the peach lemonade a photoshoot: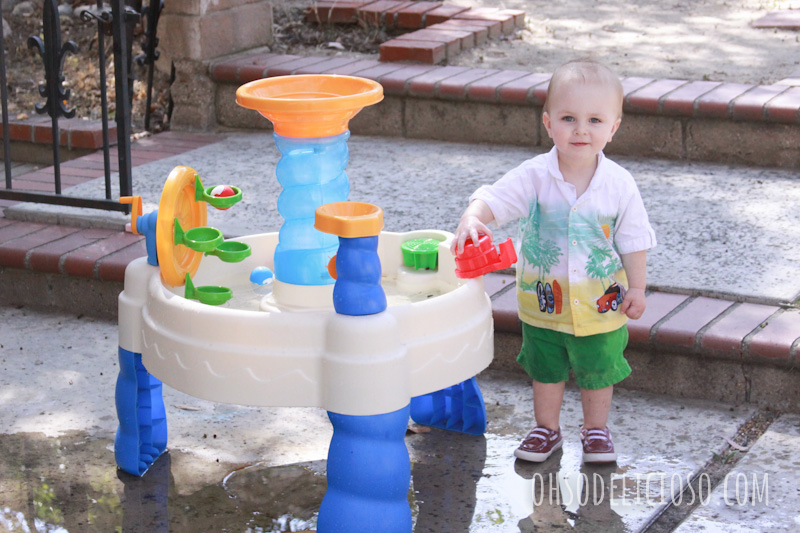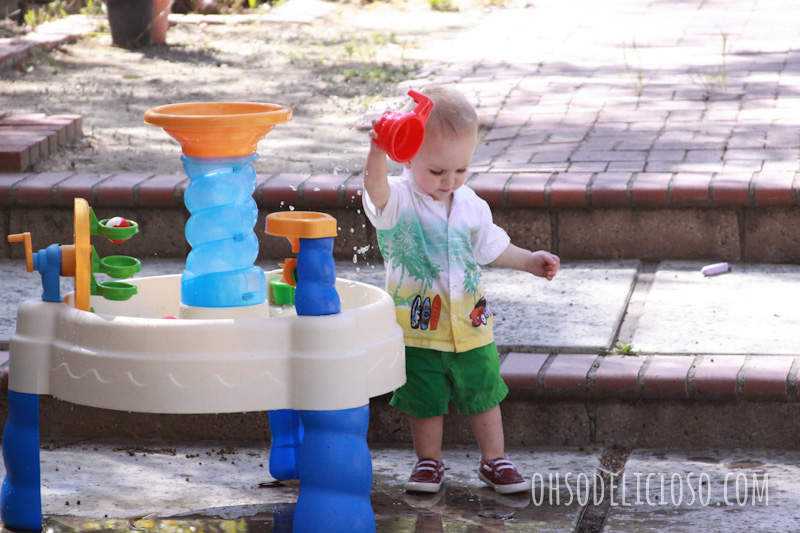 And of course he had to come and sneak a taste! (Still wet from splashing in the water table!)
Summer Drink Accessories
Mmmmm…perfection.  AND!  I nearly forgot!  Have I introduced you to my Stainless Steel Straws?  They are a true love around my house.  The are cold as you sip through them and wash up in the dishwasher.  Perfect for someone who drinks everything through a straw…like I do.  I've already converted a few people to these little guys – so you should give them a try too!

In my opinion an ice cold drink like this one goes with almost anything – but I highly recommend serving it with our Rainbow Quinoa Salad or our summer asparagus salad. Summer food is my favorite – what are some of your favorite things to eat in the summer?  Tell me in the comments below.
** Citric Acid can be found in stores like Sprouts, Whole Foods, Henry's or online. 
Peach Lemonade
Ingredients
2 1/2

cups

sugar

2 1/2

cups

water

6

peaches

pits and peels removed

4

lemons

juiced

2

TBSP

citric acid

10

cups

water

Lemon & peach slices for garnish
Instructions
Combine sugar, 2 1/2 cups water, and peaches in a saucepan. Heat over high heat just until sugar melts.Remove from heat and let cool.

Transfer peaches and sugar water to a blender and blend until smooth.

Meanwhile juice lemons and add to pitcher. Add peach puree, citric acid and water. Stir until combined and add ice.

Garnish with lemon slice, peach slices, and mint.