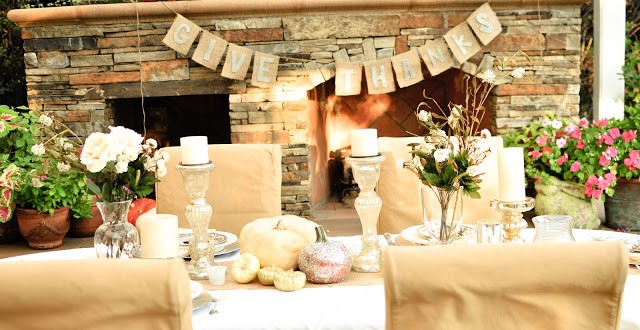 Thanksgiving is just around the bend! I love Thanksgiving, I always have since a tiny child…probably because my birthday is one that always falls just beside Thanksgiving Day. So Thanksgiving means my birthday and my birthday means Thanksgiving. Thanksgiving means family, and no school, and my birthday means presents and cake. Which means the most wonderful time of the year- family, parties, no school and presents all for me!
I am now seeing my birthday as expiration day on eggs…pretty soon it will be milk. (oh I just got a little giddy) Its a good sign to see those things…. So Thanksgiving is soon, and so is my birthday. 'Cause this year my birthday is onThanksgiving. oh happy day.
ok. enough about me- lets go back to where I started…. Since Thankgiving is right around the bend, we want to do nothing but talk about Thanksgiving right!?! right. We will have new recipes and review older ones that maybe you missed last year. We did a beautiful thanksgiving dinner with just us close friends and all our family recipes. We want to highlight all of them!
I want to start off with the main dish. I mean THEE MAIN DISH. what Turkey day is all about. TURKEY. It is probably one of the first things you will buy and plan all the rest of the dishes around the baking time in the oven with the turkey time. HOWEVER, while I have done the whole turkey in a brine for 24 hours and slow cooked it tenderly and lovingly I have to admit…it was a lot of work and the turkey did turn out awesome, but compared to our new way of making a turkey it doesnt even compare!
Fried turkey is easy. its fast. and it is THEE BEST TURKEY you will EVER eat in your entire lifetime. I kid you not. How can I convince you more?
And honestly- it is not that expensive. When you buy the turkey frier, obviously you are investing in an appliance that you can use year after year and can fry more than just turkey. For an "investment appliance" it really isn't that bad, maybe like $35. Each year we just have to buy the oil and the turkey. I talk all about it on a post I did last year. A whole tutorial on how to fry a turkey. Where and what to buy, and the least expensive way to do it.
Check it out here. you can click on any picture or any bold highlighted word to get you to the tutorial.