I first had a taste of this zesty meatball pita years ago. I had a little 4 month old baby, I had a friend next door with a 4 month old baby too. We were both trying to finish up our last semesters of college and often we would switch babysitting during each other's classes. Kelly was a creative cook. It was because of Kelly and Ginny (my other neighbor…and wouldn't you know Jenna was also a neighbor who happens to be a fabulous cook!) that I really started branching out on my foods, became addicted to Food Network, and discovered REAL food.
One afternoon I came home from History of Interior Design 202 and Kelly pulled out a batch of these pitas. She offered them to me and I was honestly thinking of declining. My famished hunger (Gehry can do that to a girl) overtook my picky-ness and I delved in. It- was- delish! I asked how she did it, and it was so easy I've remembered it all these years. 
Fresh and Healthy Meatball Pita
There are three tips to this pita the best!
Homemade meatballs
Zesty dressing (like this BRIANNAS Salad Dressing Zesty French or Italian)
Fresh crispy marinated veggies
How to make meatball pita
First start with your meatballs. I don't always bake them, but it really is an easy alternative. In 20 minutes they were all done. I wasn't constantly flipping and turning and monitoring. Just stuck them in at 400.
For the meatballs make them small, bite size meatballs. I like to use ice cream scooper on normal meatballs but in this case use a melon baller. This medium sized cookie scoop is perfect!  Makes them all even.  You can take the leftovers and freeze them for your spaghetti dinner or tomorrow's lunch. :)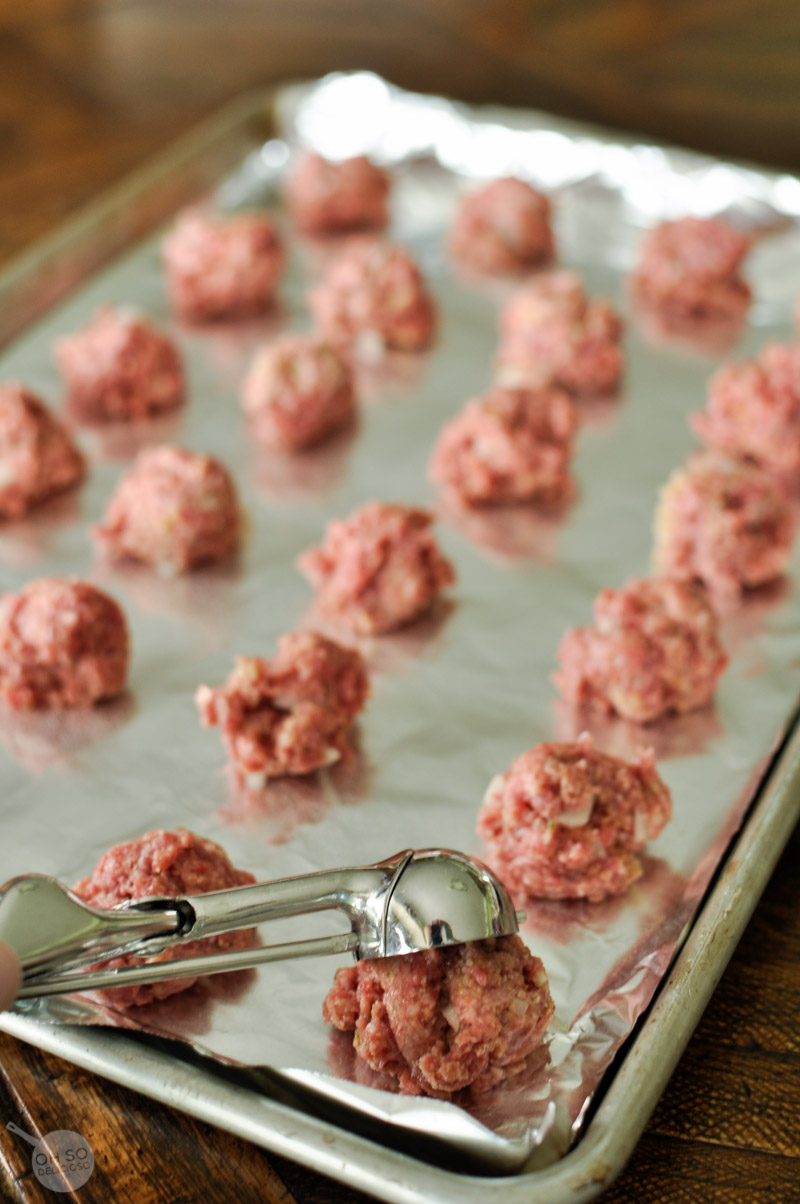 Step 2. Marinate your veggies in the zesty dressing ( BRIANNAS Salad Dressing Zesty French) while the meatballs are cooking.
Step 3: is just as simple as the others. Spoon your meatballs and marinated veggies into the pockets and EAT! its a great healthy lean meal. I especially love it for lunches. It's one that makes a bunch so you can make it for an entire week. It's even more delicious topped with bit of feta!

Zesty Meatball Pita
A great healthy lean meal, especially great for lunch time!

Ingredients
Meatball
1

lb

ground meat- turkey or beef


2

T

minced onion


1

tsp

fresh minced garlic


1

tsp

salt


1/2

cup

breadcrumbs


2

T

milk


1

egg

Marinated Salad

1

Large Cucumber diced


3

Med vine ripe tomatoes

optional 1/4 diced purple onion

Dressing* if you don't have BRIANNAS Salad Dressing Zesty French
1

Italian Dressing packet


1/4

cup

vinegar


3

T

water


1/2

cup

olive oil
Instructions
Meatballs
Combine all ingredients and lightly mix.


roll, or use melon baller, to make small uniform meatballs


line baking sheet with foil and bake 400 for 20 minutes

Marinated Salad
Dice vegetables and place in serving bowl. (or air tight container if not to be served for some time)

*If preparing your own dressing-In separate bowl whisk dressing together for 1 minute.


Pour salad dressing over vegetables and periodically stir until serving time.

Serve with pita bread, meatballs and marinated salad.
Nutrition Facts
Zesty Meatball Pita
Amount Per Serving (1 cup)
Calories 729
Calories from Fat 1872
% Daily Value*
Fat 208g320%
Cholesterol 488mg163%
Sodium 3141mg137%
Potassium 2713mg78%
Carbohydrates 64g21%
Protein 96g192%
Vitamin A 3525IU71%
Vitamin C 62.5mg76%
Calcium 318mg32%
Iron 14.4mg80%
* Percent Daily Values are based on a 2000 calorie diet.
SaveSave