Today I am sharing with you a recipe I've been a little selfish with. I have been blogging on this blog for years and have yet to share this one simple zucchini bread recipe that happens to be my favorite. I have no good excuse as to why I haven't shared it yet other than the fact that I love it and it's kinda my little baby when it comes to breads. I make this bread so much, one of my husband's buddies regularly asks when I am bring it by.
Mmmm… fresh sweet zucchini bread with a little butter melted over… one of my favorite snacks and breakfasts.
That is another perk of this yummy zucchini bread recipe. It makes two loaves. One for me and one for a friend. Service in a snap. People pretty much think you are the best ever when you drop by with a warm loaf of bread. But let's be real, I don't have all the time in the world to be baking bread all day. Another reason why I'm in love with this recipe. It is fast.
Here are a few steps to making this easy zucchini bread…
Take your fresh garden zucchini (I wish, mine is market fresh) and grate it up and to make a beautiful mess. One large zucchini will do or two small. You will need about 2 cups.
Take that zucchini and place in it a large bowl with the flour, sugar, vanilla, cinnamon, and other goodies. Just throw it all in.
And mix.
Pour into 2 greased bread pans and bake!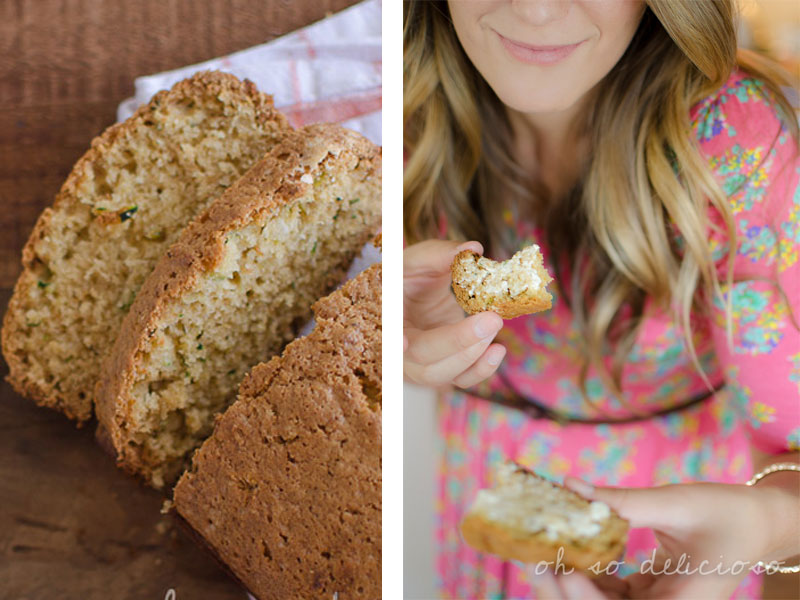 A lovely bread. I hope you enjoy now that I have broken down my walls and shared with you my simple zucchini bread recipe. It's an old friend of mine, bake it nicely.
Easy Zucchini Bread
Ingredients
2

C

Grated zucchini


3

Eggs


1

C

Veg. oil


2

C

Sugar


3

tsp

Vanilla extract


3

C

Flour


1

tsp

Baking soda


1

tsp

Baking powder


1

tsp

Salt


1

Tbsp

Cinnamon
Instructions
Mix all ingredients in a large bowl til combined. Batter will be thick.

Divide evenly into 2 greased bread pans.

Bake in a preheated oven at 325 degrees for 1 hour.