Ok, I got to admit, I totally judged this recipe by its recipe card.. It doesn't look very trust worthy- does it?  It scared me.
But then, I was making my cheese soup, and I realized I forgot to get the delicious bakery french bread to go with my soup when I was at the store. So I'm scrambling. I really don't feel like making bread. I got out the stuff to make my easy breadsticks, but didn't feel super breadsticky that night. I remembered my mom's text- and felt  a little daring.  Truly it was laziness- the thought of not having to roll and dip breadsticks in butter made me happy. I pulled out my phone and read the recipe card my mom gave me for this french bread. It looked simple enough and if it didn't turn out- so what? I was out some flour.  I made it and it WAS easy. and it WAS good. I made two loafs. (the recipe makes 2 loaves)
Night one- we ate it with the broccoli cheese soup. Night 2- I pulled out the second loaf, sliced it up and served it warm along side some creamy white chili.
Perfect. Dinner for 2 nights. Love that.
Out of the oven it looks like artisan bread…crusty, floured bread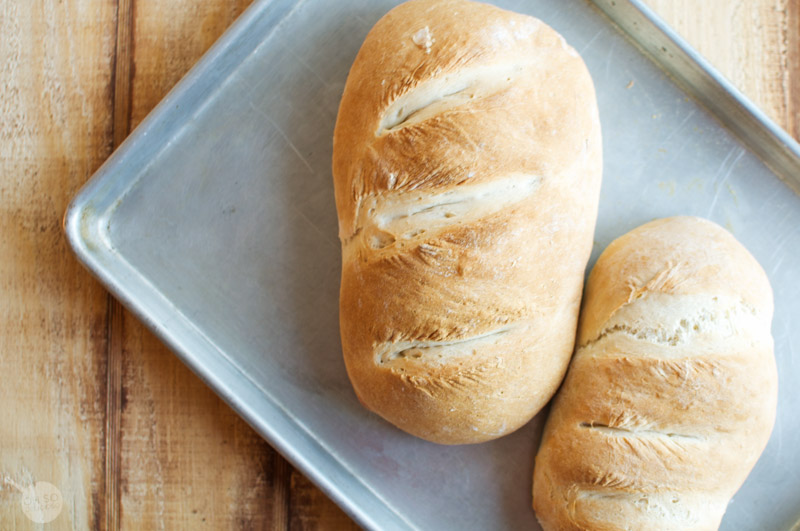 Paint melted butter on the top and sprinkle with a garlic salt spread (my fav is Jonny's Garlic Spread).
Slice while hot and add more buttah!!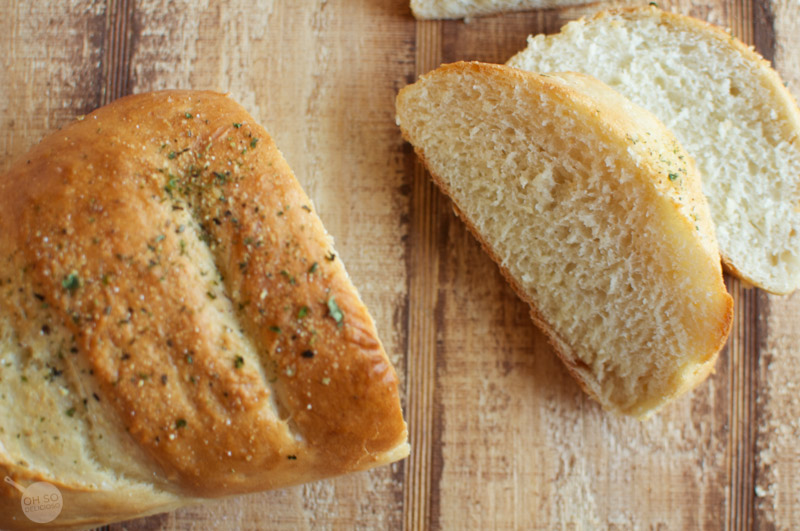 Easy French Bread
Ingredients
3

cups

warm water


2

T

yeast


2

T

sugar


3

tsp

salt


4-6

cups

flour


2

T

melted butter

Instructions
In a large mixing bowl (I use my kitchen aid) dissolve yeast into water. Let sit for a few minutes to grow and bubble. (If it doesn't bubble you have bad yeast. I'm so sorry)


Add salt, sugar and start mixer.


Slowly mix in the 4 cups of flour. Once smooth add 1/2-2 more cups.


Knead til smooth and elastic, and longer than you usually do for regular bread.


Cover and let rise (about 10 minutes).


Divide into two loaves.


Pinch ends together and score.


Let rise. (I did about 20 minutes here- or doubled in size)


Place on greased cookie sheet. Bake at 400 for 25 minutes or until done.


Brush top with melted butter and serve hot!