How to make an easy bruschetta bar for your guests with toppings, toasted ciabatta and cheeses. So easy, fresh and delicious!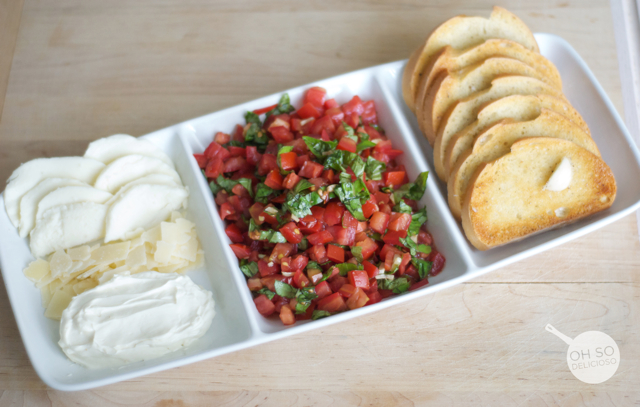 Bruschetta is actually simply the toasted bread, usually with olive oil, salt, and pepper. The toppings are completely by choice. Standard is the tomato, basil, and balsamic combination you see everywhere. I've also seen it caprese style, with fresh mozzarella (the thick log of mozzarella you see in the store, that stuff is tast-ee).
Parmesan is also a classic addition, and who doesn't like parmesan?! Sarah's recipe includes slathering cream cheese on the toasts, the addition of diced cucumber and red onion to the tomato topping, and using balsamic vinaigrette. So many options here people! I didn't have cucumber or red onion, but you could definitely add it to your bar, and the masses would love it.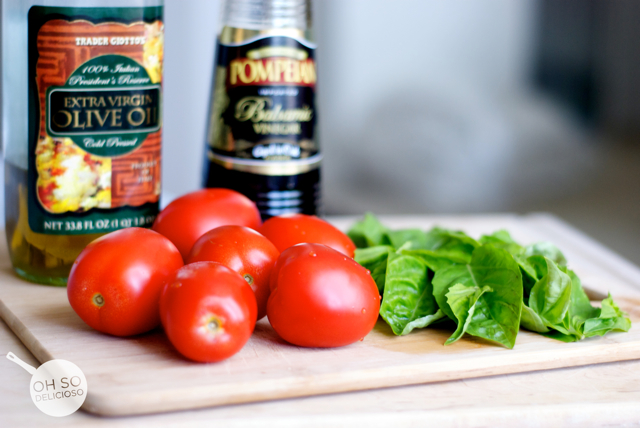 For your next party, you need this easy Bruschetta Bar. I mentioned to Aubrey that I was going to be doing a Bruschetta post, and she was bummed because one of our friends, Sarah, has this great Bruschetta recipe that she's been wanting to post. I thought why don't we lay out several different options, and let the people make the choice! And might I add, it's a heckofa lot less work than to make all of those little bruschettas yourself!
I went with the standard you usually see in restaurants: tomatoes, basil, olive oil, and balsamic vinegar. And some sauteed garlic (not pictured. Sorry, Mom).
Chiffonade
Chiffa-what? I also want to show you a nifty trick for chopping basil, where you end up with those cute little rolls of basil strips: roll a bunch of basil up length-wise like a cinnamon roll. Slice it, and you end up with perfect little strips. I used about half of one of those large 4 oz. packages at Trader Joe's (I swear Trader Joe's should be paying us).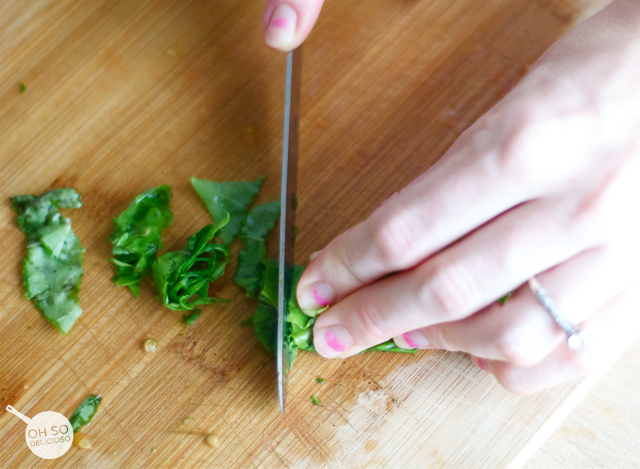 Now, before you stone me, I know that traditional bruschetta uses olive oil to toast the bread. But my friends, I love butter. So I used butter. Please don't hate me. As for your bread, you can pick whateva you like (french, a simple baguette, wheat if you're healthy like that), but I love me some sourdough.
Butter, coarse sea salt and freshly ground black pepper. I used my toaster oven on broil for about 4-5 minutes until lightly browned. The less I have to use my hot oven, the better!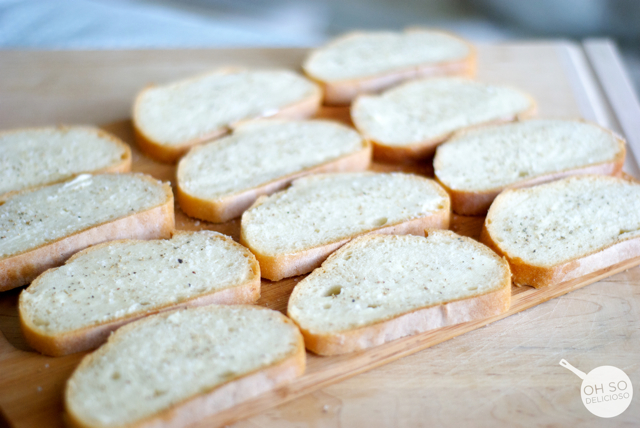 To make your toasts supa awesome, slice a clove of garlic in half, and rub the cut-side down all over the toasted toasts. Tasty infusion of garlic or go simple!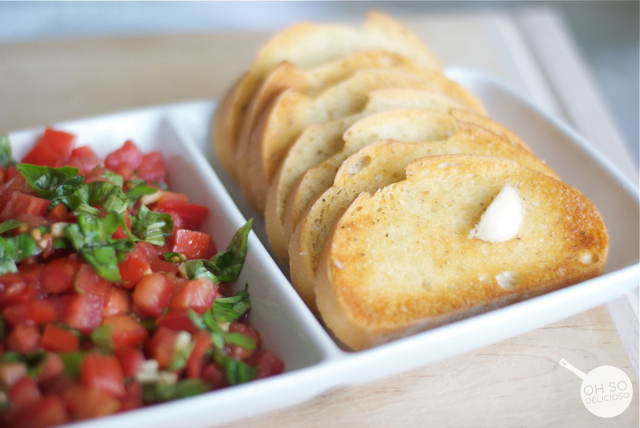 How To Make An Easy Bruschetta Bar! 
Now for the options: slices of fresh mozzarella in the back, shaved parmesan in the middle, and softened cream cheese in the front.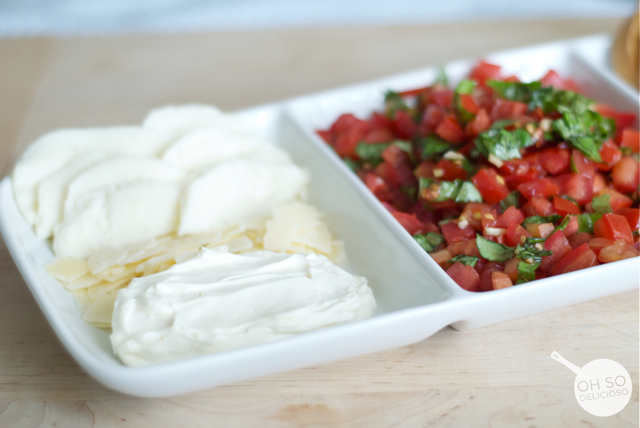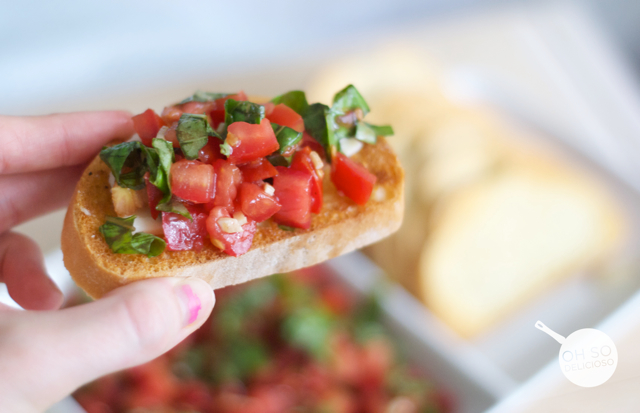 You can stack the cheese under the tomatoes or on top of the bruschetta.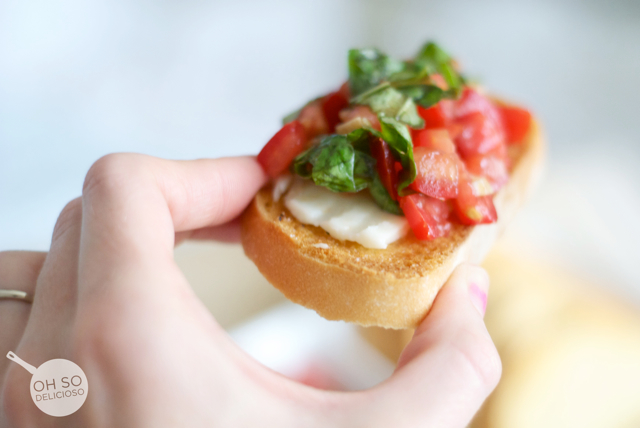 The cream cheese and parmesan was quite tasty...Give them all a try!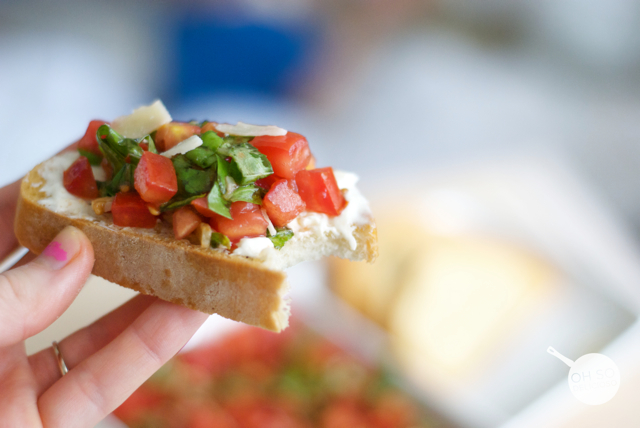 If you tried this Easy Bruschetta Bar or any other recipe on the blog then don't forget to rate the recipe and leave us a comment below. You can also follow us on Facebook, Twitter, Instagram and Pinterest to see what else we're getting up to!
Easy Bruschetta Bar
Easy and delicious bruschetta bar is a crowd pleaser.
Print
Pin
Rate
Ingredients
6

roma tomatoes


2

oz.

fresh basil


4

cloves

garlic


1

Tablespoon

EVOO


1

Tablespoon

balsamic vinegar

coarse sea salt

freshly ground black pepper

fresh mozzarella

shaved parmesan


cream cheese

softened

sourdough bread

butter


cucumber

optional


red onion

optional


balsamic vinaigrette

optional
Instructions
Dice three of the garlic cloves, saute in EVOO until lightly browned. Cool.


Finely dice tomatoes, mix in bowl with EVOO, garlic, and balsamic vinegar (if using balsamic vinaigrette, use here instead of balsamic vinegar).


Slice basil into strips, add to tomato mixture.


If using cucumber and red onion, dice and add in here.


Season with salt and pepper to taste. Cover mixture and chill for at least one hour.


To prepare toasts, slice bread into ⅓" slices. Butter, season with salt and pepper. Broil until lightly toasted.


Slice fourth garlic clove in half, and rub cut-side down onto toasts to infuse garlic flavor.


Slice fresh mozzarella, and set out with parmesan and softened cream cheese.
Nutrition
Calories:
128
kcal
|
Carbohydrates:
23
g
|
Protein:
4
g
|
Fat:
1
g
|
Sodium:
195
mg
|
Potassium:
139
mg
|
Fiber:
1
g
|
Sugar:
2
g
|
Vitamin A:
510
IU
|
Vitamin C:
5.4
mg
|
Calcium:
30
mg
|
Iron:
1.6
mg