I'm from The South, more specifically Texas. We eat lots of deliciously unhealthy things like fried okra, chicken and waffles, biscuits and gravy, Texas sheet cake, and fried chicken.
But we take the fried chicken to another level, a Southern level if you will.
We smother it and the mashed taters next to it with some country gravy.
I've also made a sausage gravy, and that was divine, but I didn't this time.
My husband's not from Texas, so he was a little hesitant the first time I made this, but he's a convert now. He might as well be born and raised Southern Baptist!
Now you can dip some chicken in some flour and salt and an egg and fry you up some chicken, but I'm telling you, it won't even come close to the thick, crispy crust on this chicken.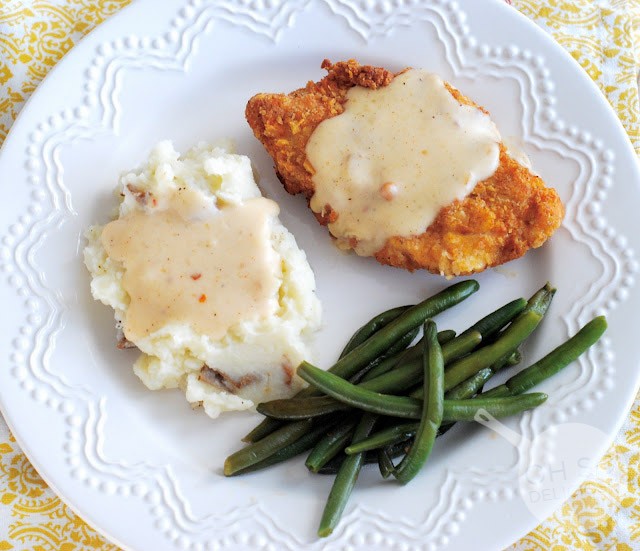 To fry the chicken, you want to heat some oil (I use canola, but vegetable or melted crisco is a little more traditional and a little more unhealthy, but delicious) in a large frying pan or iron skillet until it has reached 350 degrees. Once it reaches temperature, turn down the heat slightly so it maintains where it's at instead of continuing to heat up the temperature. Keep in mind that once you add the chicken, the temperature will lower, so you only have to turn the heat down slightly.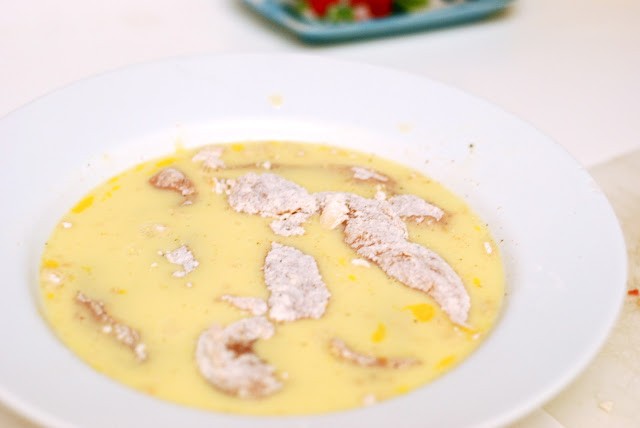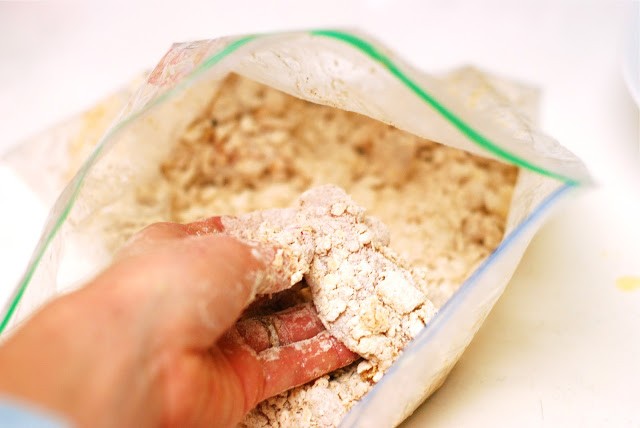 Carefully place the chicken in the frying pan. It should immediately begin sizzling. If it doesn't, your oil isn't hot enough and you should take it out until it reaches temperature.
You see how the very edges on the bottom have that nice brown color? It's time to flip.
You want to avoid flipping back and forth several times because it soaks up more oil that way.
You should only flip once.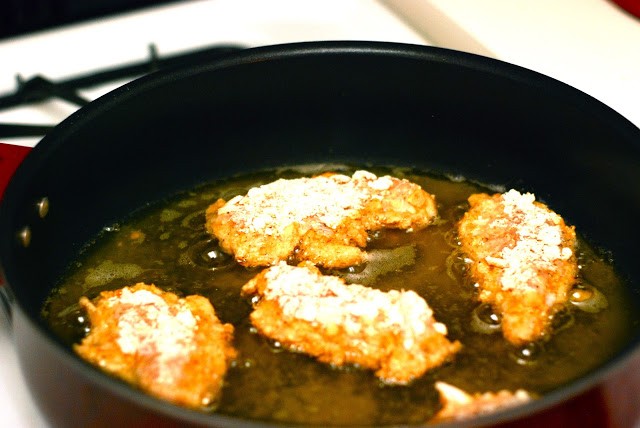 Oh yes, nice and golden. Sizzle sizzle.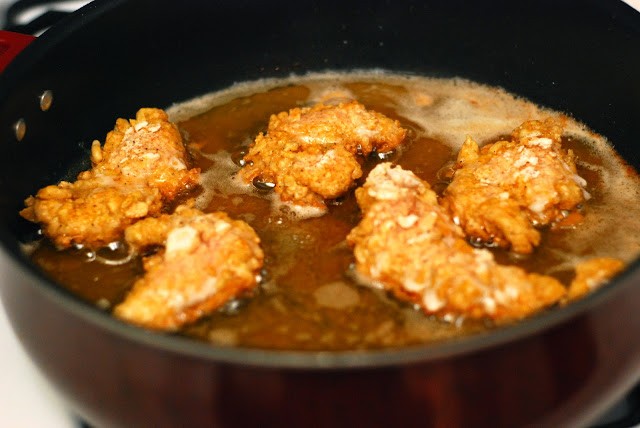 Now for the gravy, you want all the browned bits you see at the bottom of the oil.
Flavor savers if you will.
To do this, slowly pour all of the oil into another container, and you'll see that the brown bits will stay in the pan on the bottom. Stop draining when you have several tablespoons left of oil/bits.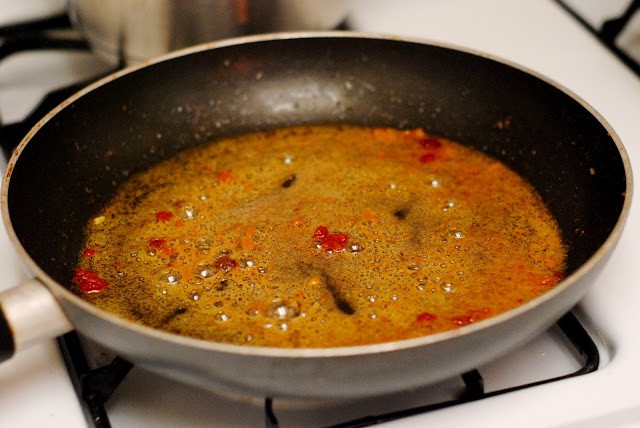 Now we make a roux for the gravy.
See? Unappetizing paste. Perfect.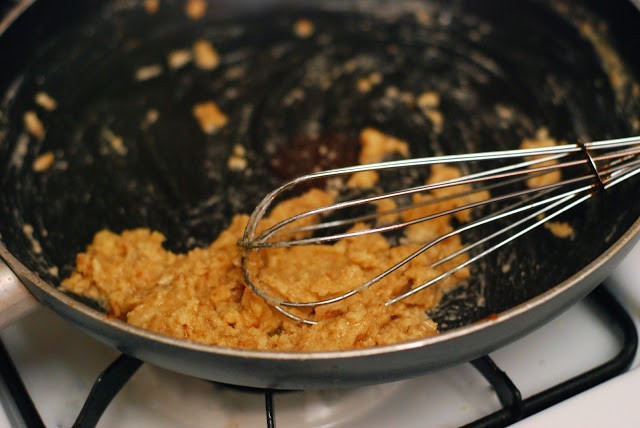 Next, slowly whisk in your milk. The roux needs time to absorb the milk, and it can't do this if you dump it all in at one time. Otherwise you end up with clumps of flour. I do about 1/2 c of milk at a time. Continue until it's as thick as you'd like, about 3 cups. It will continue to thicken if it just sits there, so keep your serving time in mind. Add the remaining spices, adjust for your liking (spicy, salty, peppery, whatever!).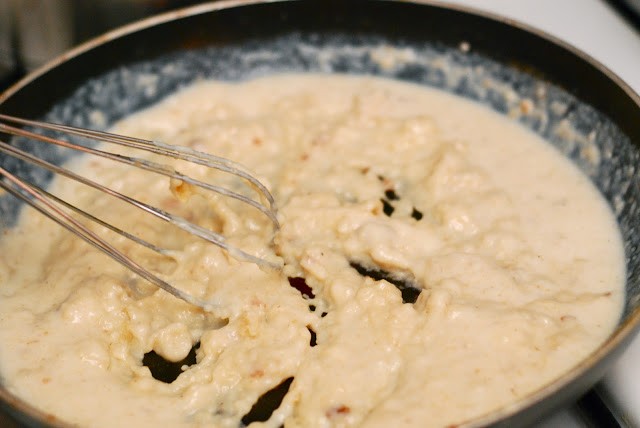 This chicken MUST be served with mashed potatoes, so at this point, I'm assuming you've made them.
I keep the skins on half of mine sometimes, gives it a little nutritional value…
Chicken Fried Chicken with Country Gravy
Ingredients
Chicken Fried Chicken




4

chicken breasts

pounded 1/4" thick


1

sleeve saltine crackers


1

c

flour


1/2

t

baking powder


1

t

salt


2

t

pepper


1

t

paprika


1/2

t

cayenne




1/2

c

milk


2

eggs



Country Gravy




1/4

c

flour


3

T

pan drippings


3

c

milk


1/4

t

red pepper flakes


1/2

t

paprika

salt and pepper to taste



Instructions
Place saltines, flour, baking powder, salt, pepper, paprika, and cayenne in a gallon size plastic bag. Crush until saltines are crushed.


Whisk milk and eggs together in large bowl.


Heat oil in large skillet to 350 degrees.


Dip pounded chicken into cracker mixture, cover well.


Dip chicken into milk and eggs mixture, cover well.


Dip back into cracker mixture until well coated. Press cracker mixture into chicken.


Fry chicken in oil until you can see the sides of the chicken browning. It should be a generous sizzle the entire time it's cooking. If not, turn up the heat slightly.


Flip chicken with tongs until other side is browned.


Keep chicken warm and toasty in oven or toaster oven on 200 degrees.


Make gravy with pan drippings: whisk pan drippings with flour to make a roux over low heat.


Slowly whisk in milk 1/2 c at a time until it is absorbed.


Season to taste.


Smother chicken and mashed potatoes with gravy, serve