I've enjoyed this little appetizer since I was a kid.  Our next door neighbor growing up is SUCH a good cook, and I remember her making these for special occasions – Thanksgiving, New Years Eve, Christmas, etc.  They were always a favorite, so naturally my mom asked her for the recipe…and in turn I asked my mom for the recipe the first time I had to make an appetizer for a party.  EVERY TIME I make these they are the first thing to be eaten up.  I have never saved any of these as leftovers, because there are never any left to save!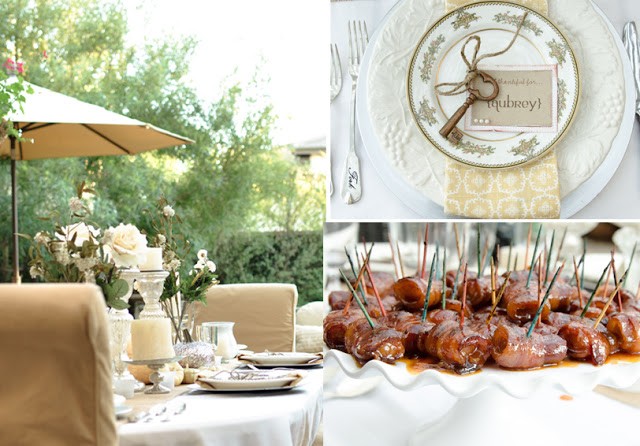 I have shared this recipe time and time again, and it is so terribly easy that it will surprise you.  It will make your house smell pretty much like heaven, and your guests will feel like they are in heaven when they eat them.  These were lovingly called pockets of love by a few of my friends from San Diego.  They requested I make them every Christmas.  Even my vegetarian friend would eat a few, ha ha!
So – make these for Thanksgiving, or Christmas, or for a party, or just for yourself!  You won't regret it.  Just the other day my mom and I were talking about our Thanksgiving menu and these were one of the first things to be brought up!
Bacon Wrapped Water Chestnuts
Ingredients
1 1/2

pounds

bacon


2

cans whole water chestnuts


1

cup

barbeque sauce


1

cup

honey


toothpicks
Instructions
Cut your bacon in half. Wrap each water chestnut with bacon and secure it with a toothpick. Place in a 9x13 cake pan that has been sprayed with non-stick spray.

Combine barbeque sauce and honey and whisk to combine. Drizzle over water chestnuts.

Bake at 400 degrees for 1 hour, or until bacon begins to crisp.

Serve warm.