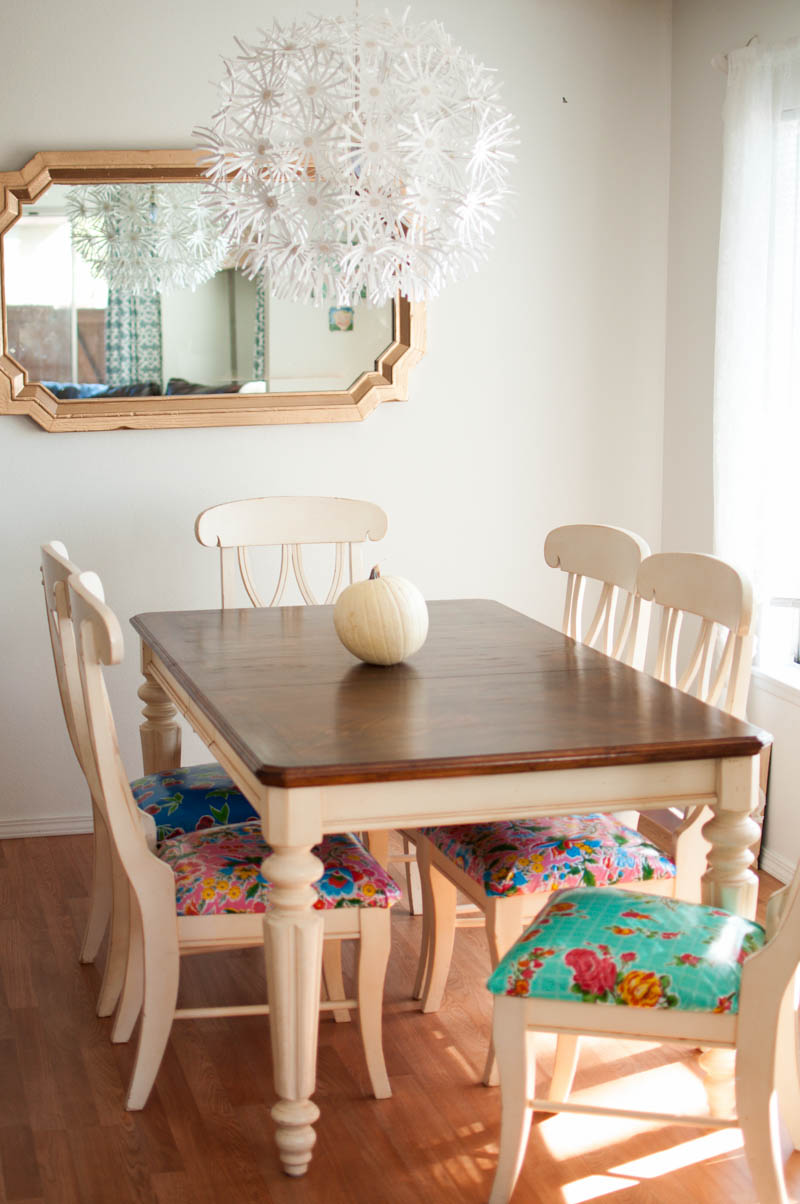 I feel like to tell my kitchen table story properly I need to start at the beginning. Way back when we had one child (and one more on the way) we were also starting the grand adventure of law school. For our big move across country we wanted to save as much money as possible on a truck and sell all our furniture then buy new or used when we got to our destination. We arrived, bought craigslist leather couches and a brand spankin new table. My pride and joy for like 2 weeks.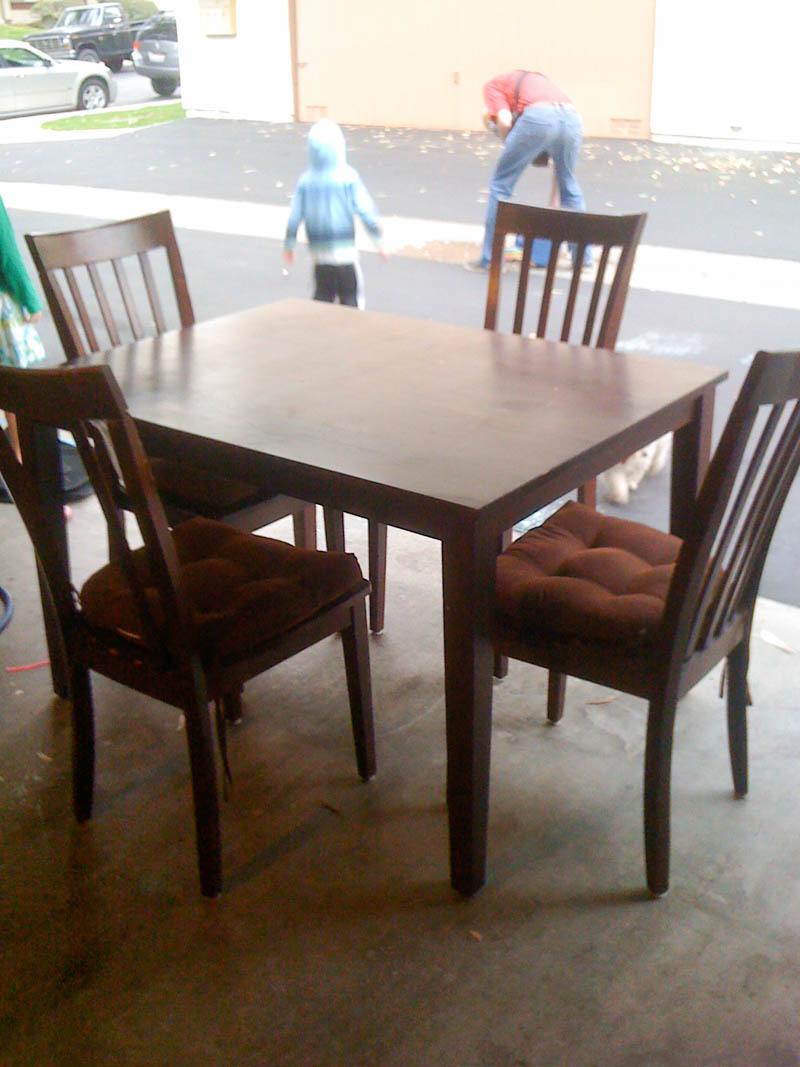 It was kind of a splurge, and what I learned later...cheap quality! Made of soft (easly dentable/breakable) wood with a veneer top. It'd get scratched and would scratch right through the thin veneer. It looked horrible. I would use markers and those touch-up stain pens, nothing really worked. We used that table for years, because well we spent hard earned money on it, and despite the looks- it still worked.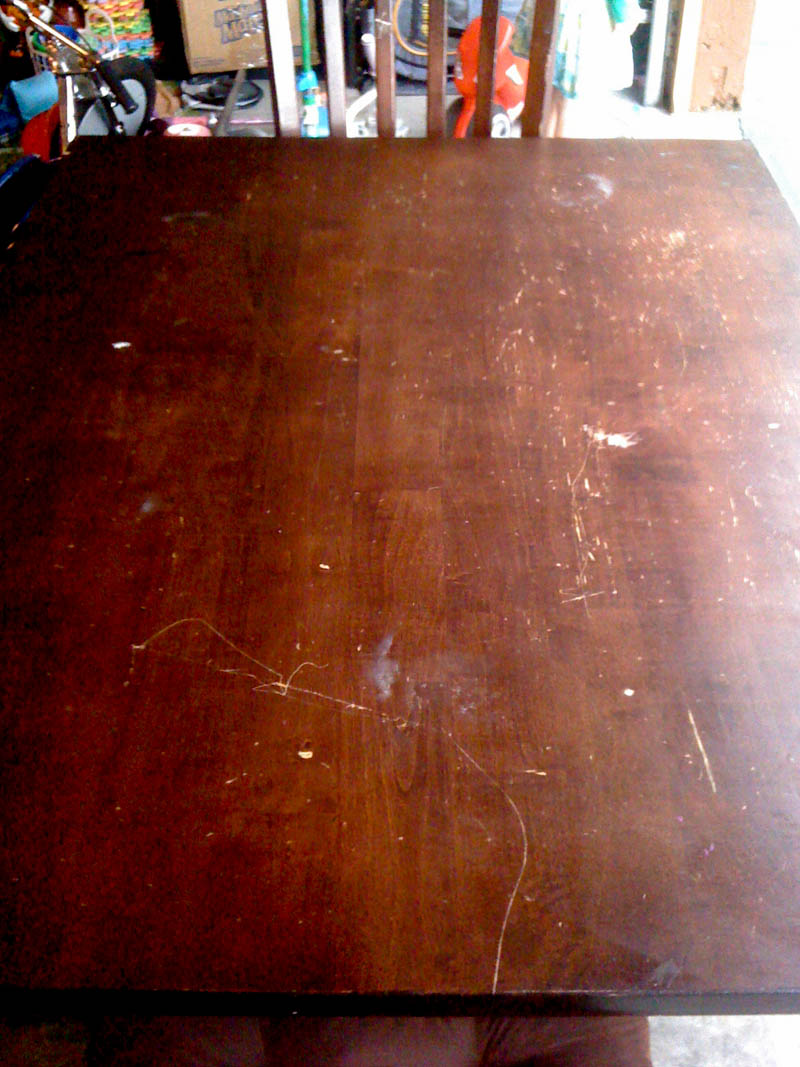 Then we moved to SoCal, we had our third child and therefore outgrew our table for 4. Perfect excuse to buy a new one, right?? I was not going to make the same mistake twice. One day about 3 months after living here I passed by a hole-in-the-wall Korean Thrift Store and outside was this two toned table with chairs that had awesome back work.  We bought it for $175. It needed a deep deep deep cleaning. I noticed on this first cleaning that the top was like trying to wash sand paper. The finish wasn't smooth, like it was starting to wear off. And the seats...well they were beautiful. (cough cough)
The seats were my first project. By the time I finally got around to recovering the seats it was also about the time we had decided to move to a larger condo. I reallly wanted to have the chairs done before the move. I got the idea from a friend who would use vinyl table clothes to recover her stools, but she told me she had to recovered them often. (I don't want to do this project often... yuck) And I haven't needed too. After buying  vinyl I can see why. I chose a vinyl that was sooo much thicker than a vinyl tablecloth. It paid off.
I used ½ yard for 2 chairs. and it was $10 a yard. $15 total. SCORE.  Can I tell you how much I LOOOVE this covering. I had debated between faux leather or a nice thick upholstery fabric. I strolled around LA fabric district, scrolled through Etsy but finally went with this colorful vinyl. I love how it brings color to our kitchen, SO easy to clean, and has held up excellent. no tears or stretching. nothin.
BEFORE::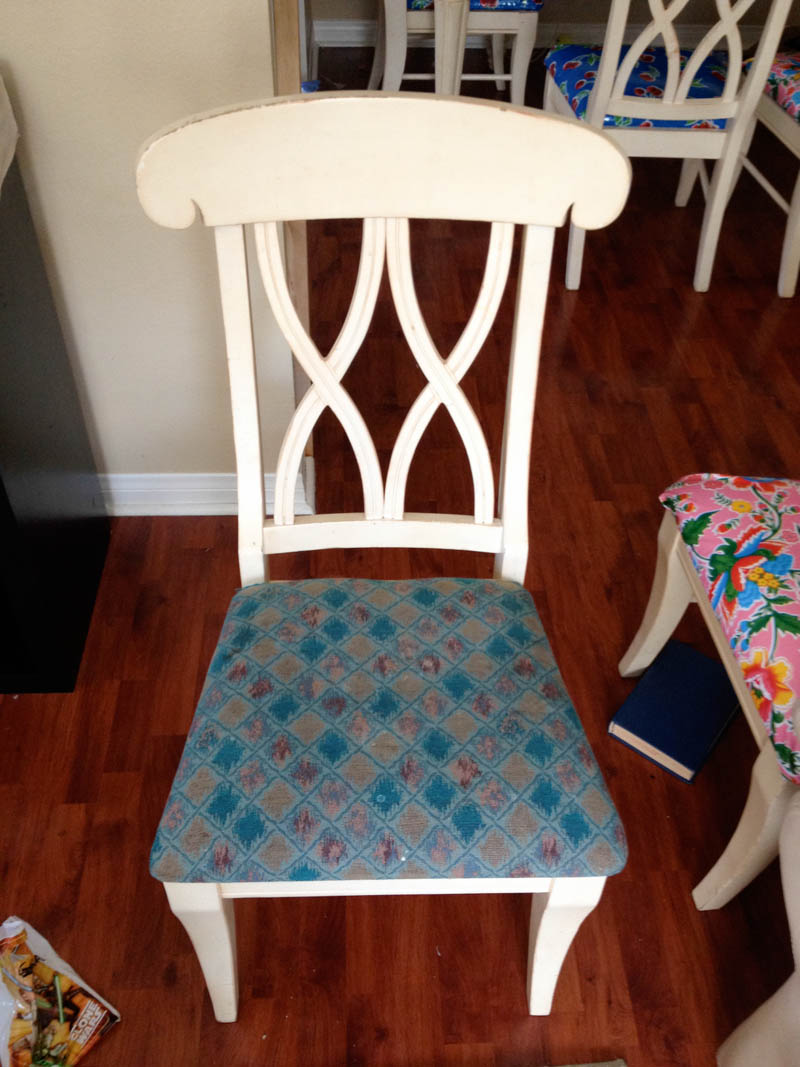 AFTER: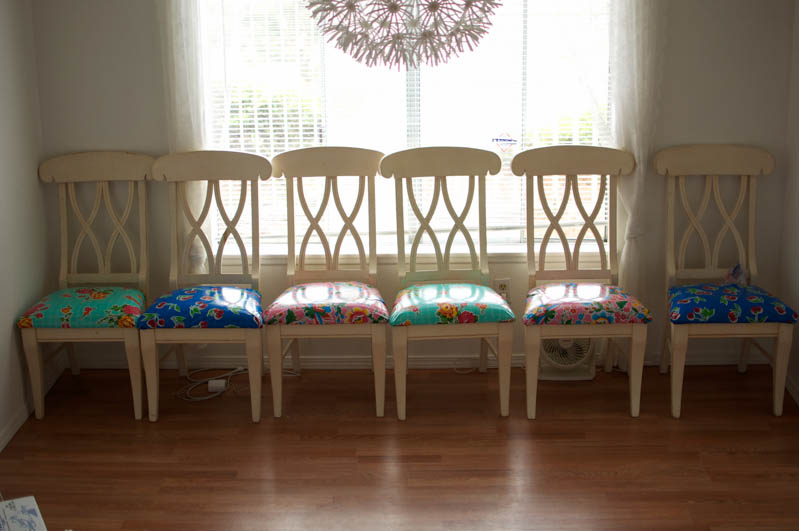 Next..... I was sick of trying to scrub sandpaper. Plus, my kids had already done some pretty little artwork themselves. AND (this is embarassing) there was something grezzzzy hanging out in the grooves despite lots of scraping. oh. and I hated this orangey color. I wanted something darker, but not too dark that will show every scratch and crumb.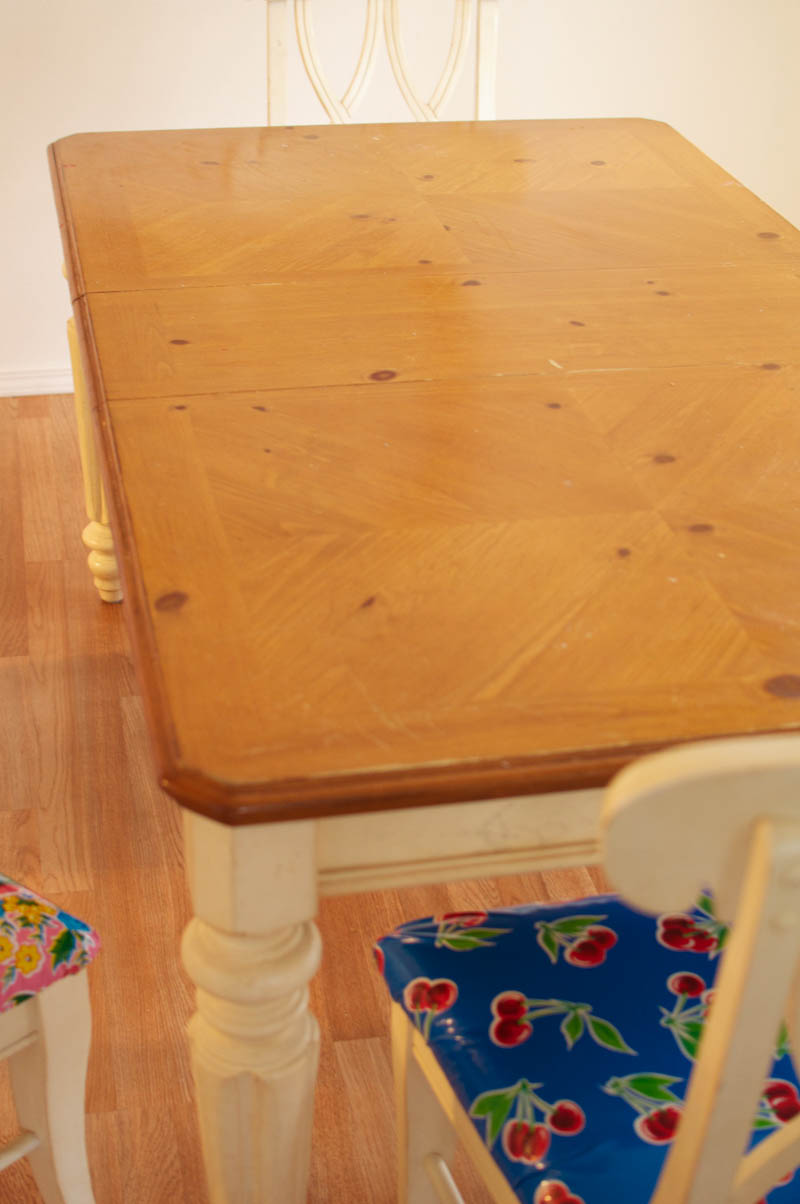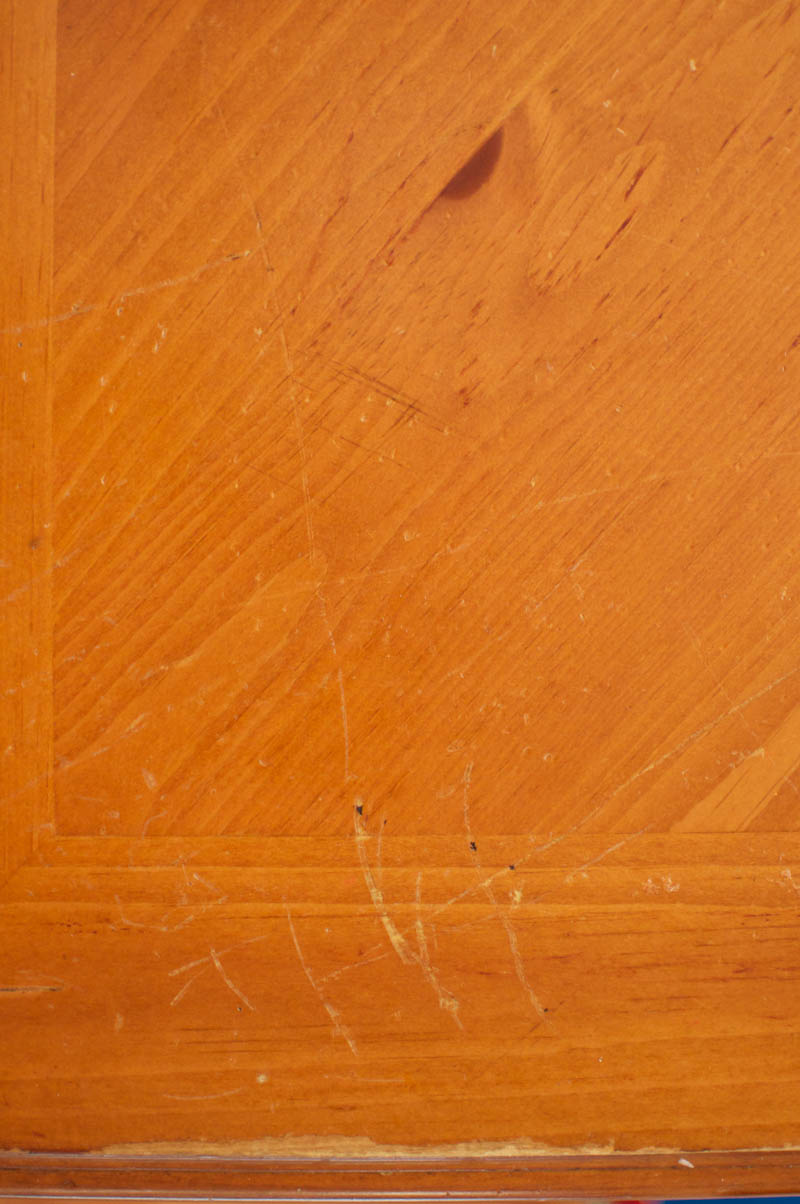 After I taped off the white (I liked that part of the table, ALOT)  so no stripper would ruin it.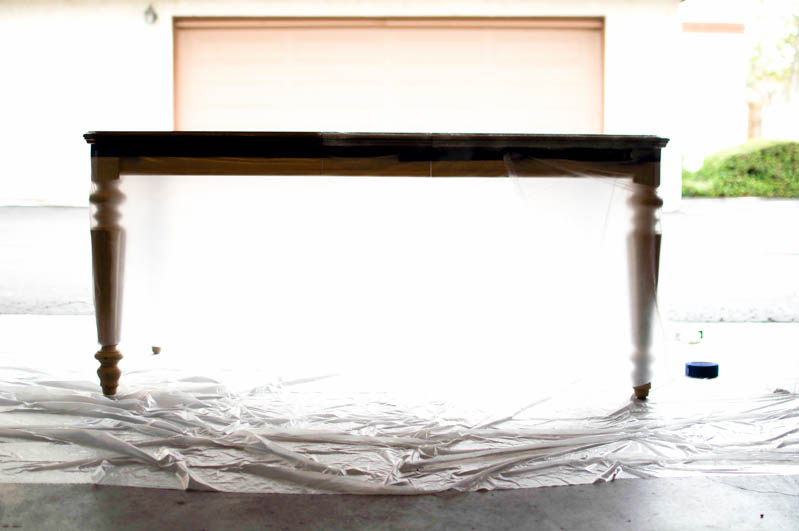 I used a heavy-duty stripper, heavy (laytex doesnt work- ouch!) gloves, this scraper was PERFECT for the grooves.I had picked out a stain, and the hardest hardest urethane possible.  What a project. I actually started with a spray stripper... yeah, it barely covered half the table. And didn't even take off the top coat. Don't do spray ok? This is a baaaad idea: That gold bottle below.....trash it. go with the liquid stuff.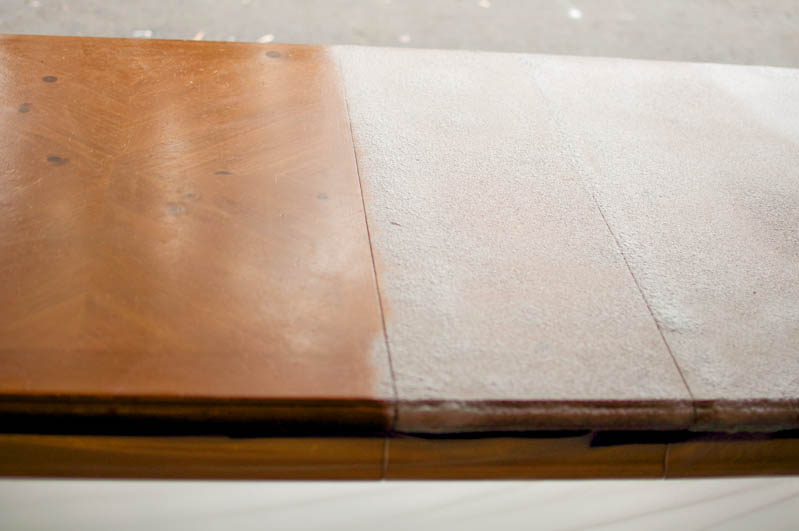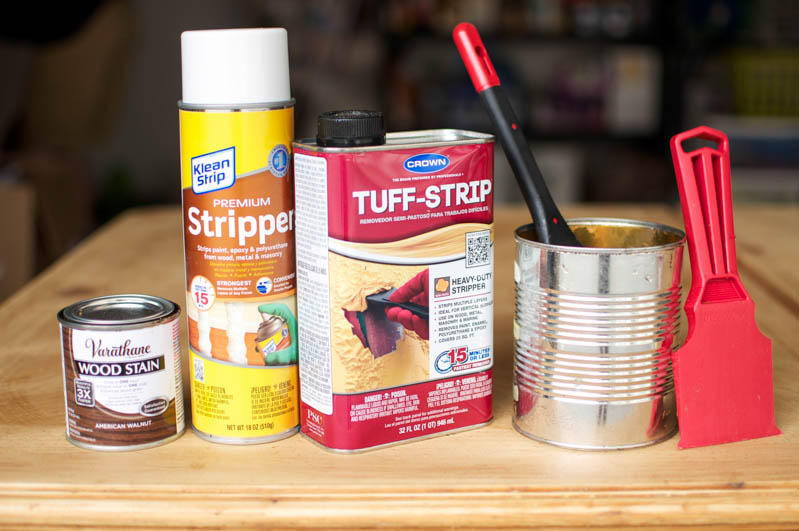 This is just after one coat of stripper, I knew from here it was going to take a few more coats....and probably some sanding.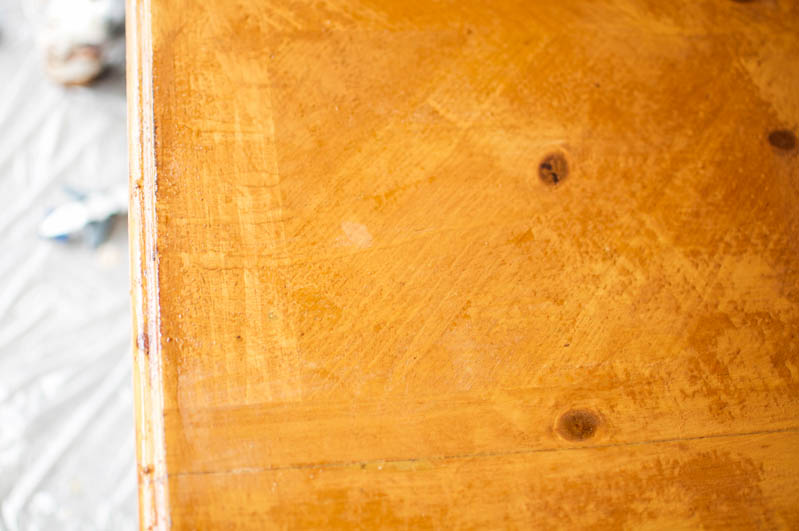 This is after about 3 coats of stripper and scrapping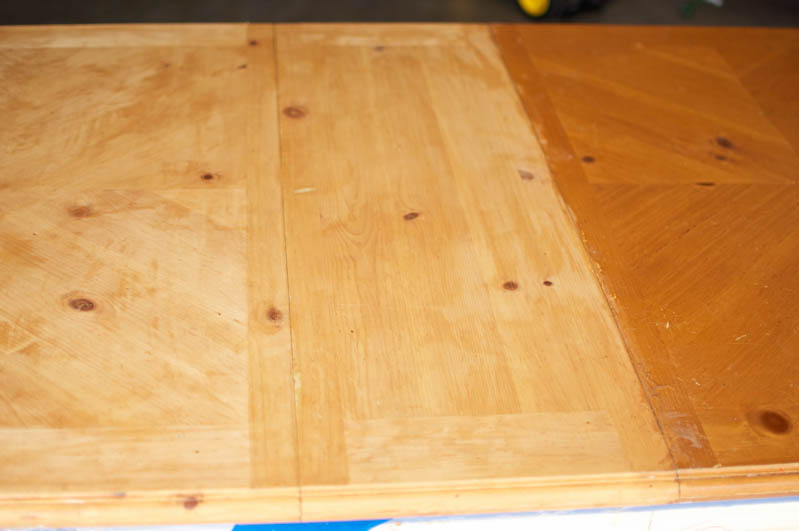 ::Note to self:: in your excitement to stain (the most exciting part!!) dont forget to wear gloves. :( it'll take days to come off.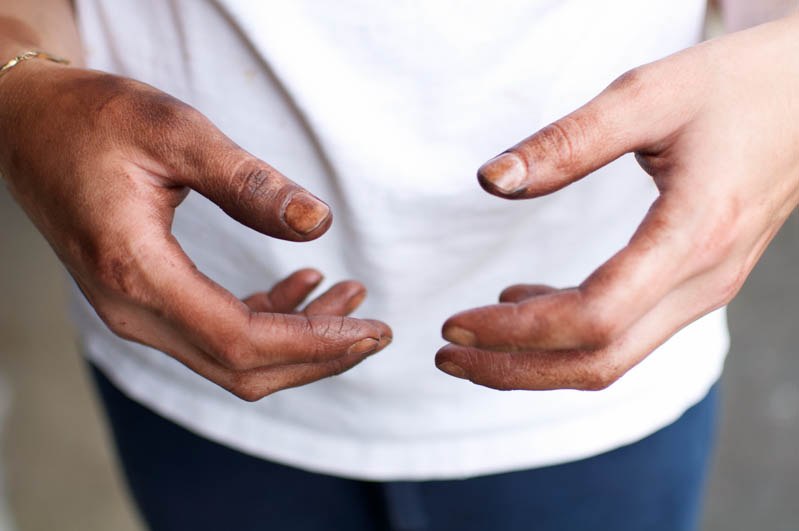 Also my motto::ALWAYS INVOLVE CHILDREN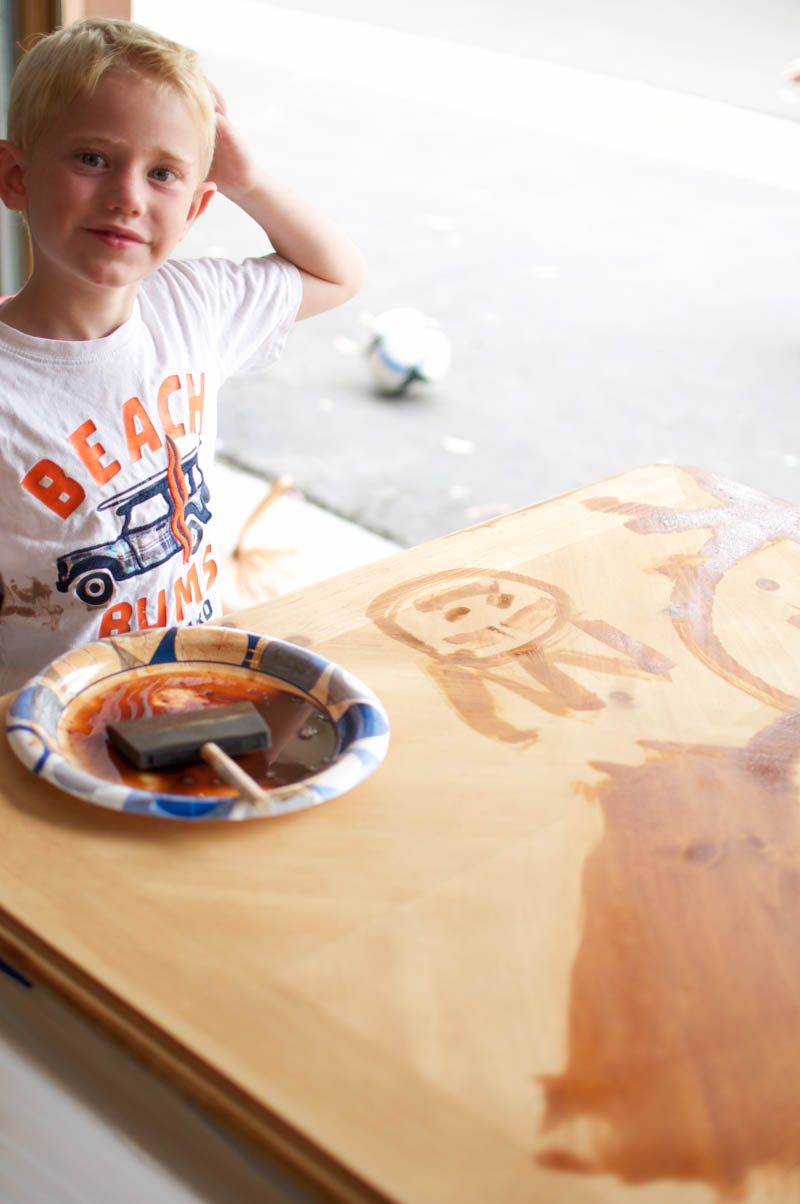 I had picked out an American walnut for my stain. It looked perfect on the sample....BUT as I was staining the table it was looking way more red than I wanted. So I went to my craft stock and pulled out a dark walnut stain from a few projects ago....I mixed it with the american with the dark walnut and did another coat. For some reason it was really really thick, so I spread it on and then used a clean old rag to wipe off. It was perfect.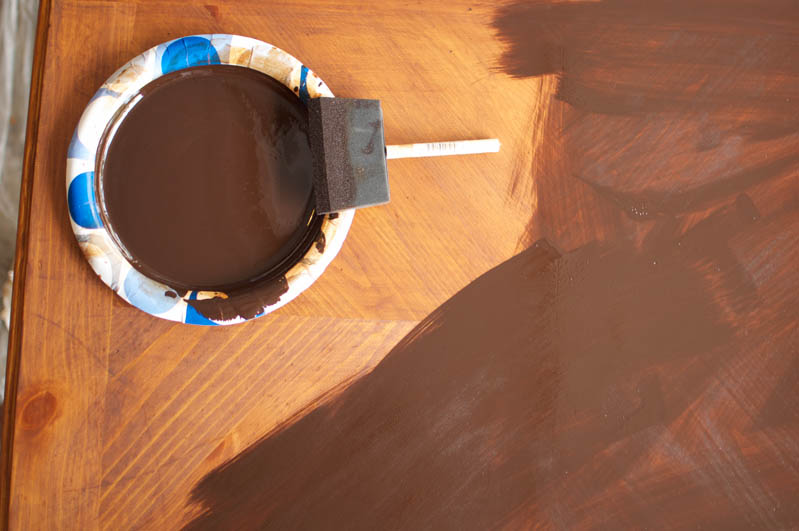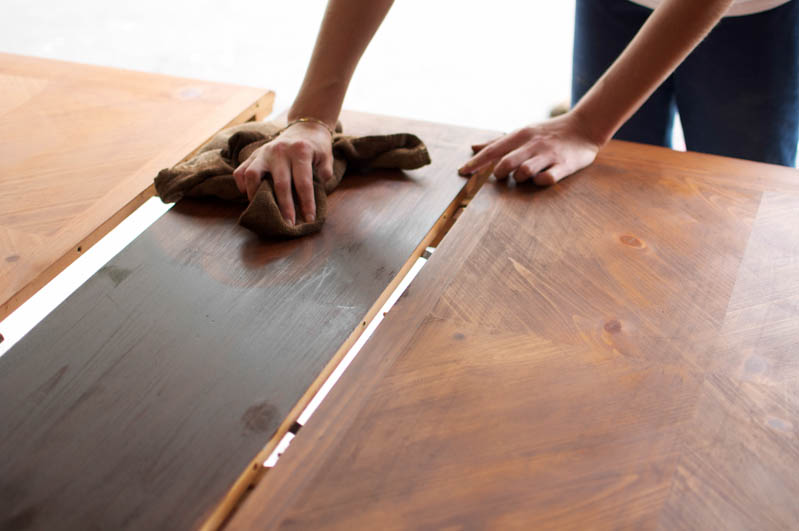 I followed instructions for the spar urethane.... cleaned and washed the whole thing, moved it into the kitchen. AND! Finally. DONE. sigh. I love it now.
BEFORE:: ( Well this is before even boxes were unpacked....)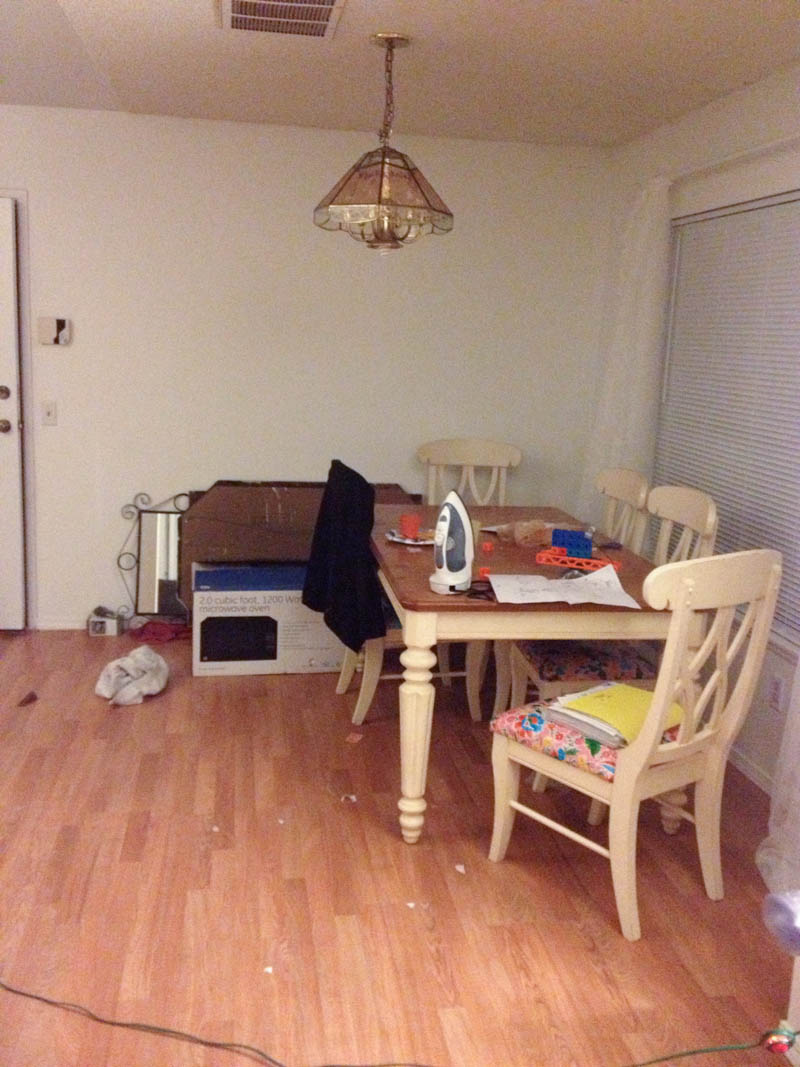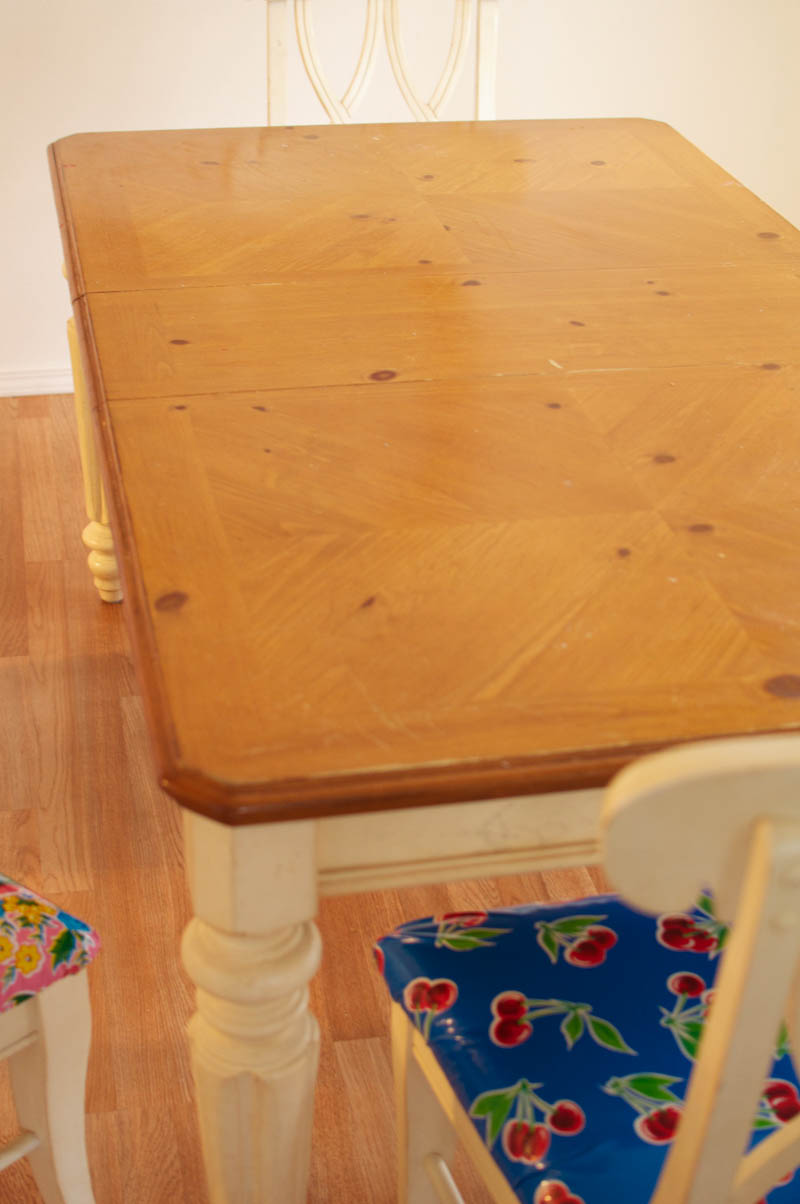 AFTER::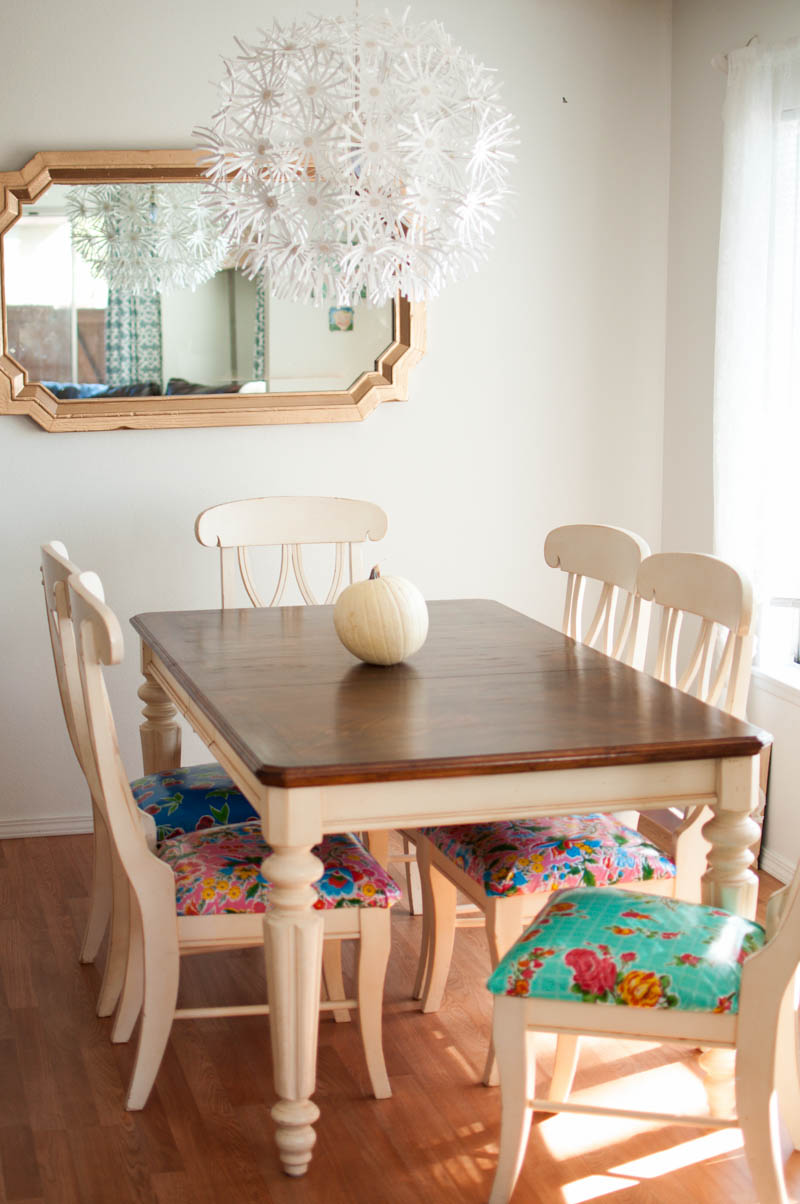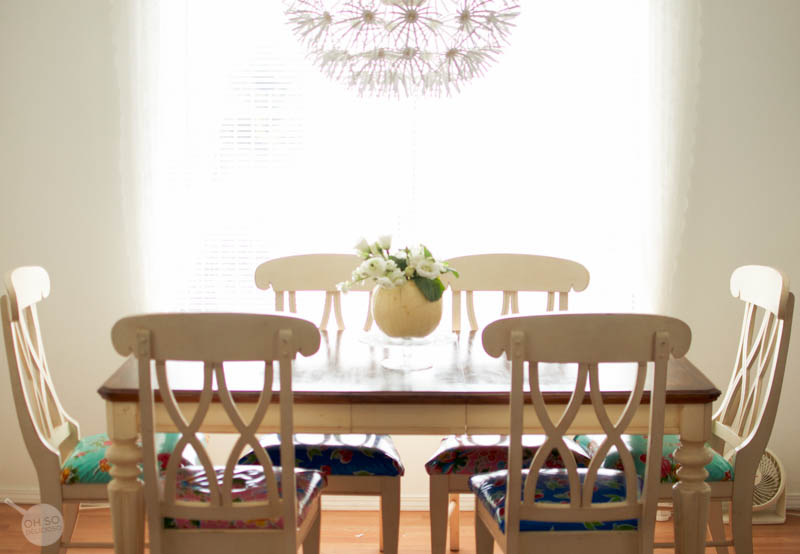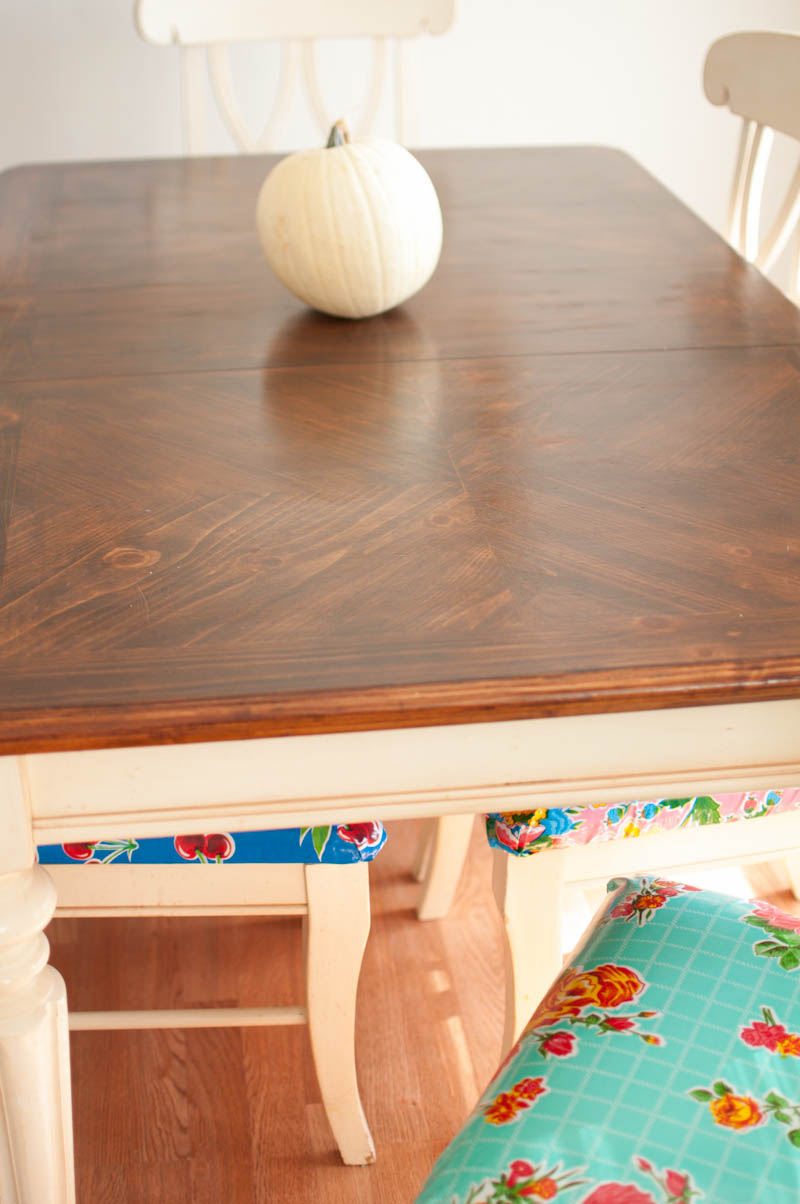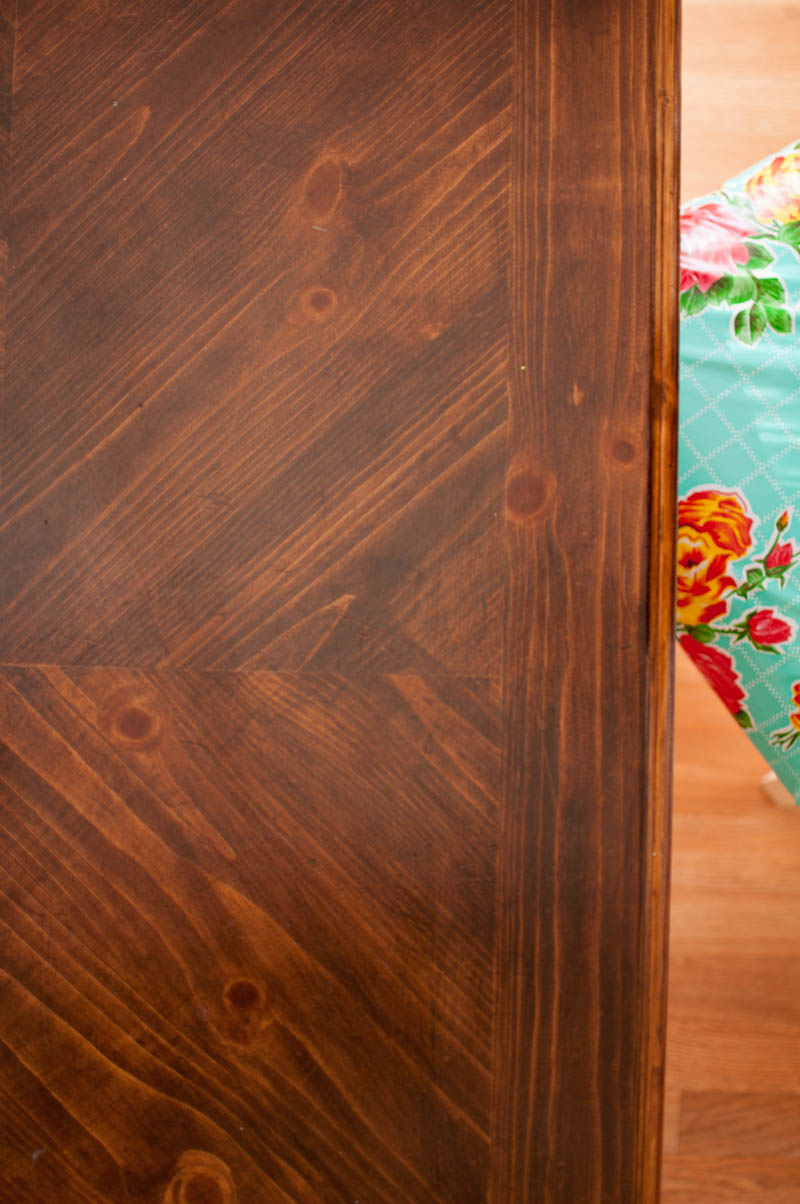 Ok, so I know this is a picture heavy post. (those are honestly my favorite...I'm a visual person) but, I'm so happy with the results. The kitchen table is more than just a piece of furniture. It's where your family grows and bonds together. Make meal time important in your home. It doesn't always have to be healthy- hey I have had pretty importantly deep conversations over hot dogs. It wasn't the hot dogs that was important it was that all my kids were gathered around talking about their day, the silly or serious, sad or exciting day. It all comes together at the table. Not much different than our big thanksgiving meal- so make your table extra special this year...all year.
Another thrifting treasure is this mirror. Gigantic heavy thing needed a few new coats after three moves. She sure is shiny now.