One of my favorite places to eat in college was called European Connection. They specialized in crepes…I usually got what was called a half attack. Meaning the humongous crepe was but in half. One side filled and wrapped with entrée food the other half your choice dessert filling. Genius.. your meal comes half deliciousness that fills you up and the other have chocolate berriness that calms the sweet tooth.

Our family loves this for dinner, so we make it quite ofen. It's so healthy and simple + we get a yummy dessert. For our savory crepes I start by grilling a couple of chicken breasts, seasoned however you prefer. Then we prepare all the veggies for a fresh green salad.  Once the fillings are prepared, set them aside and make your crepes they cook up very fast so you need to pay close attention.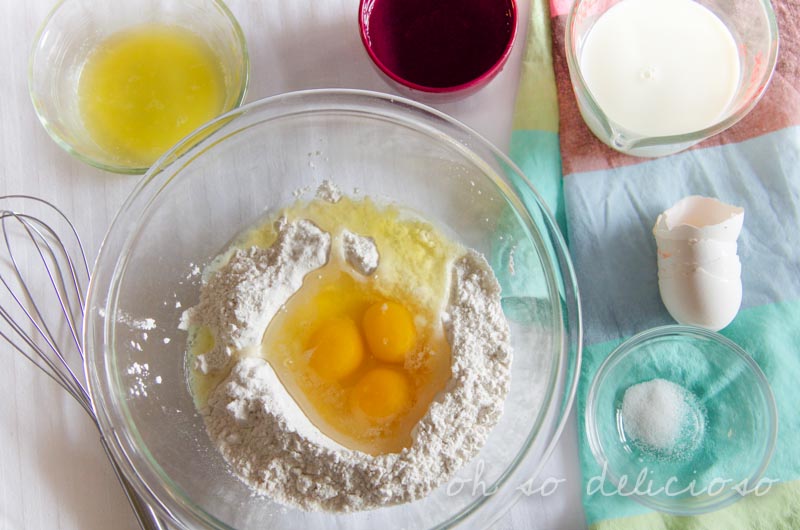 We like our dessert crepes pretty simple,  fresh fruit and nutella.
Ingredients
1 1/2 cups flour
3 eggs
3/4 cup milk
3/4 cup water
1/4 heap tsp salt
3 TBS melted butter
Instructions
In a large mixing bowl, whisk together the flour and the eggs. Gradually add in the milk and water, stirring to combine.
Add the salt and butter; beat until smooth.
Heat a lightly oiled griddle or frying pan over medium high heat. Pour or scoop the batter onto the griddle, using approximately 1/4-1/3 cup for each crepe.
Tilt the pan with a circular motion so that the batter coats the surface evenly.
Cook the crepe for about 2 minutes, until the bottom is light brown. Loosen with a spatula, turn and cook the other side.
Serve hot.
Toppings for Savory Crepe:
Cheese,
Grilled chicken,
Lettuce,
carrots
tomatoes
cucumbers
favorite salad dressing
Toppings for dessert crepes may include,
fruit,
ice cream
whip cream
chocolate,caramel,etc syrups
powder sugar
nutella
http://ohsodelicioso.com/crepes/