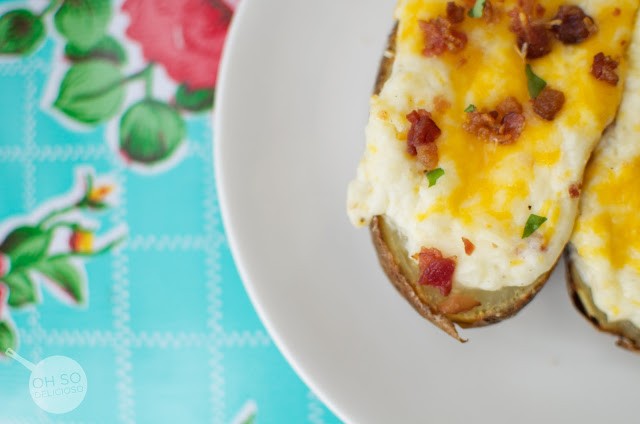 Twice baked potatoes are so AWESOME. I love the variety of things we can do for potatoes, so when you are getting tired or the regular ol' mashed potatoes and gravy give these a try. They can really go with any other side, or salad or meat you have planned. they are such a hit with all types of people- they can be gluten free, vegetarian, men love them, women love them. KIDS devour them. Seriously people. why wouldn't you? plus- they are one of those things where a little goes a long way..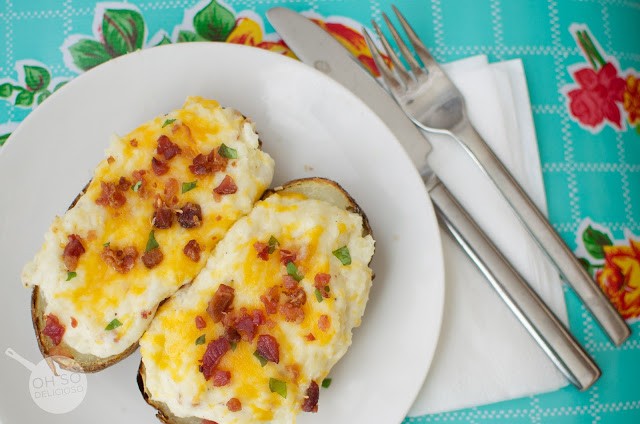 I'll admit baked potatoes can kind of be high maintenance… but I like them for these following reasons
 1. They are easy, (even though they take a while) and very hard to screw up
 2. Fancy enough for guests (and hard to screw up so you'll have confidence in your meal)
 3. VERY yummy leftovers (so I always make extras.)
 I personally like to start off baking them with this method…you see some restaurants do it this way. makes the best skins.
You can always make these a few hours ahead of time and then throw them in the oven about 20-30 minutes before serving time.
Twice Baked Potatoes
Ingredients
4

Large Potatoes

1

cup

of real bacon bits

or bacon

1

cup

sour cream

1/4-1/2

cup

milk

4

Tbs

butter

1/2

tsp

salt

1/2

tsp

pepper

11/2

c

shredded cheddar cheese

a few green onions sliced
Instructions
Wash Potatoes.

Rub your potatoes with a little olive oil and course sea salt.

Bake for 1 hour (or till fork tender) at 400 degrees

If your cooking bacon, do it now. crumble and set aside.

When potatoes are done allow to cool a little.

Slice in half lengthwise and scoop into large bowl. Save skins.

In a large bowl add butter.pile on hot potatoes.with 1/4 cup milk, sour cream, salt and pepper.

Half the cheese, half the bacon, half the onions- MIX.

It the texture is too thick still add remaining milk.

Mix until well blended and creamy. Spoon mixture into skins.

Top with remaining ingredients.

Bake for another 15 minutes or until cheese on top is melted.