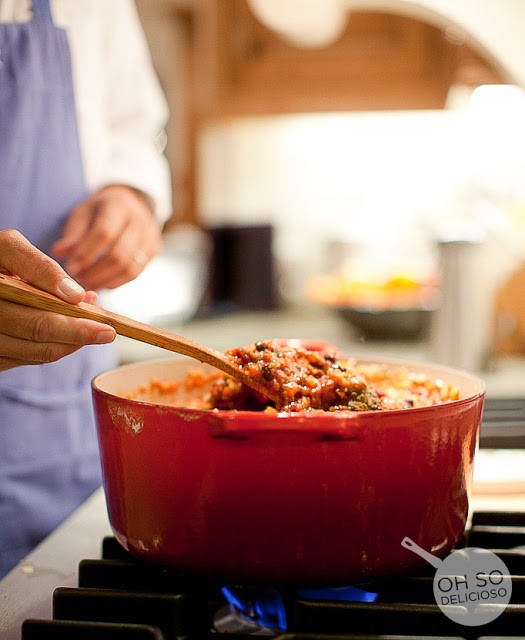 Growing up as a vegetarian, everyone would always ask me how I got my protein. As a kid I never really focused on it much and I always seemed to be healthy so I didn't worry. Now that I'm 3 months pregnant I think about protein every day. I know how important it is to get the right amount of protein to not only curb the effects of pregnancy nausea, but to also grow a healthy baby. Most pregnancy books I have read suggest that you consume between 90-100 grams of protein every day! With that high mark to hit every day I had to think of some recipes that I actually enjoyed that would help. My dad's famous vegetarian chili recipe was the perfect solution. There are also tons of B vitamins and fiber to also help with the symptoms of pregnancy. For those that need a less spicy alternative because of pregnancy heartburn, you can either omit, or lessen the amount of chili powder and tabasco sauce and only include 1 chopped jalapeno. When you remove the jalapeño seeds before chopping you get rid of most of the heat and it is a little easier to bear.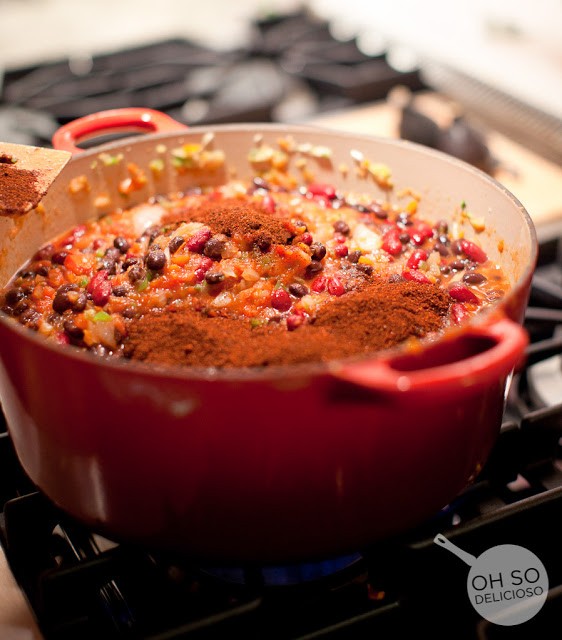 Dad's Chili (For the Closet Vegetarian in All of Us)
Ingredients
Chili
5

Tbs

Olive Oil

10

Cloves

Crushed Garlic

2

Medium Onions chopped

2

Green Peppers chopped

2

Red Peppers chopped

2

Jalapeno Peppers chopped

remove the seeds before chopping

2 28-

oz

cans of crushed tomatoes

2

cans Kidney Beans

2

cans Black Beans

1

can yellow Corn

2

cans vegetarian Refried Beans

2

T

Sea Salt

1

T

Dark Chili Pepper

2

T

Cumin

12

splashes of green tabasco sauce

1

can of Beer

alcohol cooks out
Garnish
Tortilla chips

Chopped avocado

Cilantro

Sour cream

Sauteed

cubed tofu
Instructions
Saute onion and peppers with oil in a large pot for 5 mins or until onions are translucent.

Add in tomatoes, all beans, and refried beans. Cook for another 5 mins.

Stir in seasonings, tabasco and beer then simmer for about 30 mins.

Garnish as desired.
Recipe Notes
PRESSURE COOKER: Turn pressure cooker on and keep pot open to heat oil. Add garlic and onion and saute for a few minutes. Add remaining ingredients, lock lid and close valve. Set to soup setting for 10 minutes, let naturally release.