These are SOOO GOOD! And such a fun and easy dinner. Our kids love participating in the assembly of these. And then they love eating them tooUnroll your pizza dough onto a lightly floured surface.  Cut them in to 2 inch squares ad fill with your favorite pizza toppings, minus the sauce. My kids personally love the "Hawaiian" toppings, but my husband and I like to get creative. Sometimes we try BBQ Chicken pizza toppings, or picture below is caprese salad filling, with fresh mozzarella. Instead of buying shredded mozzarella buy cheese that can be cut up into squares. String cheese works great.
When all of your dough squares have cheese and toppings on them, carefully lift up each square and wrap the dough around the toppings.  Pinch to make sure each ball is sealed shut and then place them seam side down in a lightly sprayed pie pan (or similar sized dish).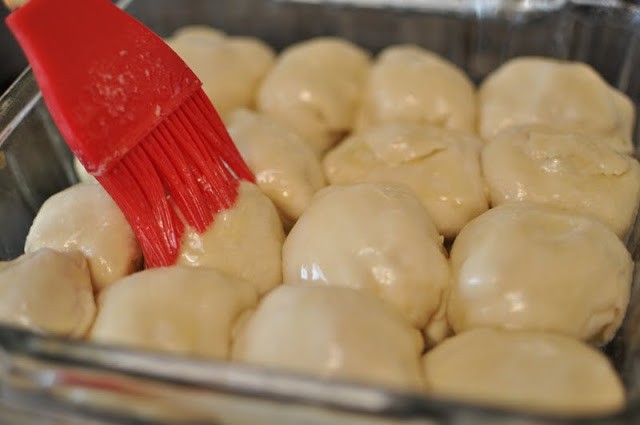 Brush the tops of the dough balls with olive oil or melted butter (I've used both and there's not much difference in result) and your very favorite Garlic salt. Serve warm with warmed marinara sauce on the side for dipping.
Ingredients
Marinara/pizza sauce
1 T olive oil or melted butter
1+ T dried Jonny's Garlic Spread or your favorite garlic salt
mozzerella cheese

Pizza Dough

1 cup hot water
1 Tbsp sugar
1 Teas salt
1 Tbsp shortening
1 Tbsp yeast
2 cups flour
Instructions
Preheat oven to 400 degrees.
Unroll your pizza dough onto a lightly floured surface.Use a pizza cutter to slice the dough into 2" pizza squares.
Place cheese and desired toppings on each square. (Note that you're not putting the marinara sauce on the dough- it's for dipping after)
Pinch to make sure each ball is sealed shut and then place them seam side down in a lightly sprayed 9x13 pan (or similar sized dish).
Brush the tops of the dough balls with olive oil or melted butter and then sprinkle with the garlic and Italian seasoning and top with Parmesan cheese.
Cook them in the oven for about 15-20 minutes or until golden brown on top.
Serve warm with marinara sauce on the side for dipping.

Pizza Dough Instructions

Starting with 1 1/2 cups of flour, Mix all ingredients until well blended and sticky. (When combining the ingredients put the yeast on the flour so it doesn't touch the hot water until everything is mixing).
Slowly add flour until dough forms a ball and pulls away from the side of the mixer.
Let rise for a few minutes.
Continue with instructions for pizza rolls
http://ohsodelicioso.com/stuffed-pizza-rolls/