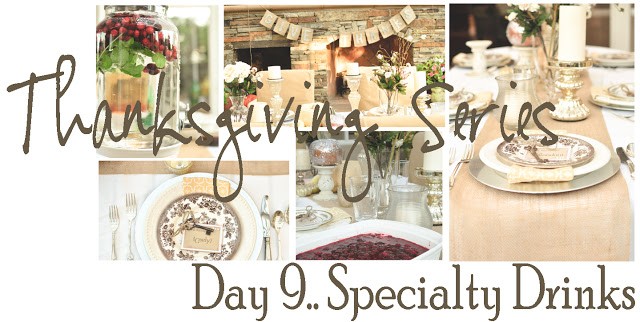 If you know me you know I LOVE punch at a party or holiday.  My recipe box is full of delicious beverage recipes for any and all occasions. I don't drink sugary delicious drinks on an everyday basis – so having a cup full at a holiday or party is a real treat!  As few months ago I stumbled upon a recipe for homemade Martinelli's apple cider (a thanksgiving tradition at my house.) The ingredients made sense, but didn't sound and yummy and tasty as they could have been.  So – I made a few adjustments and came up with this Sparkling Apple Punch.  Perfect for thanksgiving!  Traditional, simple, and elegant.
Can be served in a glass pitcher or in a beautiful beverage dispenser.  I have a thing for beverage dispensers.  First of all they look beautiful, second they give you that buffet-all-you-can-drink feeling.  I have two beautiful crystal dispensers that I love.  I pull them out for parties, baby showers, and they are constantly being borrowed for events.  I love them.  My husband on the other hand?  He HATES them!  Not that he hates using them…he hates cleaning them and then storing them back in their enormous styro foam protectors.  A small price to pay for a beautiful drink presentation in my mind!
Now what about those who would rather pass on the punch?  I always do water.  One dispenser of water, one of punch.  BUT – I always try to make my water special., and appropriate for the occasion. The veggie water recipe is one of my favorites, but for thanksgiving – try cranberries and mint!  The cranberries will not flavor the water, they will only be a beautiful garnish, but the mint will make the water taste refreshing and clean.  The combo of the two is beautiful and PERFECT for thanksgiving.  It is just that little extra detail that will wow your guests!
---
 Thanksgiving PlaceCards
And now… about the adorable placecards you have been seeing in the pictures…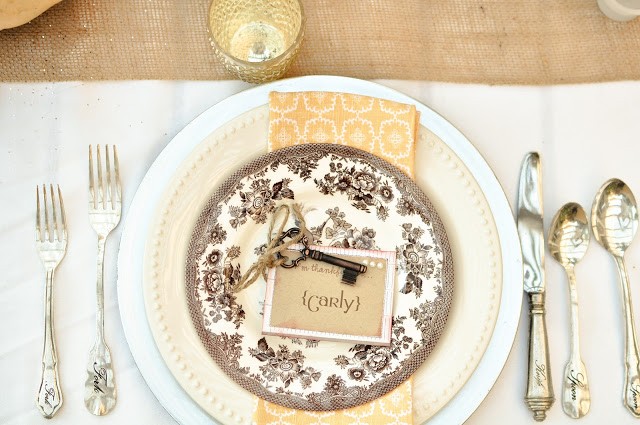 Paper crafting has been a love of mine for many many years.  I have always had a love for paper.  As a young girl I would save my money to purchase beautiful stationary, and as an adult I save my money to purchase beautiful scrapbook paper.
For these elegant place cards I used neutral shades for an elegant and shabby chic look.  I simply printed the names from my computer onto a piece of kraft colored cardstock using brown ink.  Get creative and mix up your fonts.  I love pairing two coordinating fonts together – it adds lots of interest.  I find that when it comes to paper crafts – attention to the little details makes all the difference.  With that in mind I inked the edges using one of my favorite inks, added a few adhesive backed pearls, and I added a little glitter glue.  I tied on a rustic key to make them extra special using a simple rugged twine.  Perfect for Thanksgiving.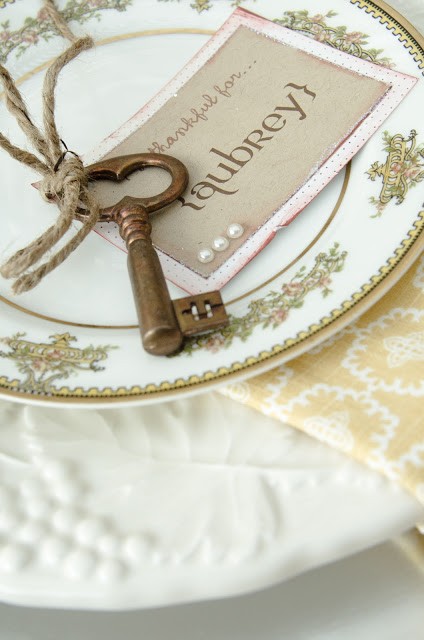 Sparkling Apple Punch (and a twist on serving water)
Ingredients
Sparkling Apple Punch

2 12oz cans of frozen apple juice concentrate, thawed

1 2liter bottle of gingerale

2 apples, sliced

ice

Instructions
Directions for Sparkling Apple Punch

Combine all ingredients and stir to combine. Serve immediately.
http://ohsodelicioso.com/sparkling-apple-punch-and-a-twist-on-serving-water/