This week we will be sharing with you oodles and oodles of slow cooker recipes!  Just in time for crisp evenings and short days.  I love coming home to a warm slow cooker meal this time of year – so comforting, so easy.  So stay tuned for more slow cooker recipes to come this week!  Also – take a look at our mini photo slider above for some of our fabulous slow cooker meals we've posted in the past.
This is the world's EASIEST slow cooker recipe.  I'm not lying.  The easiest peasiest slow cooker recipe. ever.  And…it's delicious.
We all have those so-busy-I-want-to-pull-my-hair-out days, and this recipe is for just those occasions.  You'll come home to a homey, comforting, warm meal without lifting a finger.
My mom makes this dish and I seriously crave it everytime I go to visit.  How funny is it that I request a meal that takes minutes when I don't have to cook?  I don't know what it is – but this dish tastes so good out of my mom's slow cooker!  It also makes me feel like I'm at home.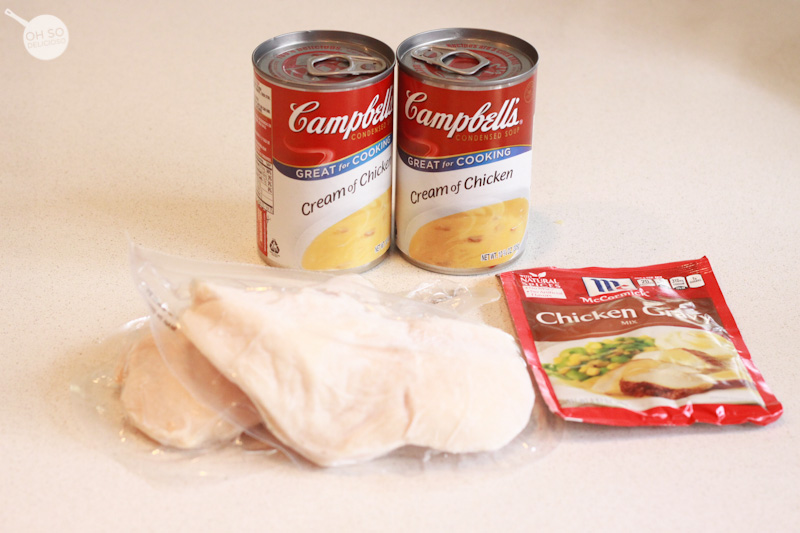 Here's what you'll need – a few chicken breasts, 2 cans of cream of chicken, and one packet of chicken gravy mix.  That's all kids!
Spray your slow cooker with a little non-stick spray.  Place chicken breasts inside and sprinkle with a little s and p.
Sprinkle with gravy mix.
Cover with cream of chicken.
Set your slow cooker to low and cook for 4-5 hours.  Serve over rice…or mashed potatoes if you prefer.  I like to set my rice cooker on delay so that the rice is cooked the same time the chicken is – so it really is a no fuss meal when we come home from a busy day.  Before serving shred or cut chicken into bite sized pieces and return to gravy.
Slow Cooker Chicken & Gravy over rice
Ingredients
2-3 boneless skinless chicken breasts

2 15oz cans cream of chicken soup

1 packet chicken gravy mix

hot steamed rice or mashed potatoes
Instructions
Spray slow cooker with nonstick spray.
Place chicken inside slow cooker. Season with salt and pepper.
Sprinkle gtavy mix over chicken.
Cover with cream of chicken soup.
Cook on low for 4 to 5 hours.
Shred or cut chicken into bite sized pieces and return to sauce.
Serve over hot cooked rice or mashed potatoes.
http://ohsodelicioso.com/slow-cooker-chicken-gravy-over-rice/