Every year when we carve our pumpkins, pull out the pulp, make silly faces in the jack-o-laterns I love to roast a few of the pumpkin seeds for a fun crispy snack. I really love them! Mild, buttery flavor with a pinch of sea salts and its so satisfying!
In the recent years I've come to really appreciate good seasonings. I did use to think salt was salt, seasoning salt was seasoning salt, bullion was bullion. HECK NO. These things can and do make a huge difference in the outcome of your dishes. If you don't believe me buy a handful of salts (we did this at home, with my kids!) and taste test them! Dip a tiny bit of your finger in to a salt and taste each one plain. You will totally tell the difference. Redmonds Real Salt won the salt taste test hands down! We love this stuff. I have all the links for amazon right here. If you are in the US mountain west you can find it at a ton of stores!
How to make Roasted Pumpkin Seeds
Pulling out the pulp has got to be the least fun job right? Honestly the little plastic spoons you find in the store isles are the best tools for the job! They have little serrated edges that clean it right up. Separating the seeds is pretty easy. Rinse off your seeds and let them dry.
So, just incase you want less fat I'll provide you with a healthy recipe.
Everybody happy!?
To start- separate seeds from pulp.
Wash.
Let dry.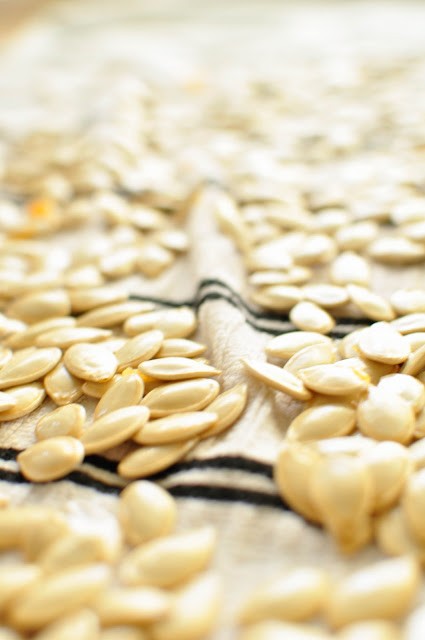 Now. If you are me. you take 1.5 cups of clean dry pumpkin seeds and coat them with 2T of melted butter.
If you choose a different method…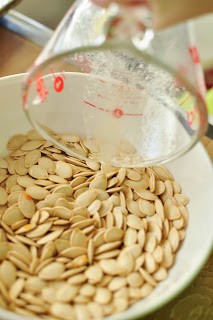 Ingredients
1 1/2 cups washed and dried pumpkin seeds
2 T melted butter tossed with pumpkin seeds
Instructions
spread on baking sheet in single layer and spray with cooking spray
sprinkle with sea salt and your favorite seasoning salts
bake 350 for 15 minutes until golden brown
let cool, and eat!
seeds will keep in an air tight container for 1 week.
http://ohsodelicioso.com/roasted-pumpkin-seeds/
 Lay them on a cookie sheet- single layer. Spray with cooking spray.
and all together we sprinkle with sea salt and seasoning salt! yumo.
 Bake at 350 degrees for 15 minutes or until golden brown.
Let cool completely.
Jack ate his with lunch. Healthier than chips, even with a little butter