Happy Labor Day friends! We hope you have a lovely 3 day weekend and enjoy the family time! We are excited to say that this week is Salad Week over here at Oh So! Lovely and large green salads will be posted all week long. Follow us on Instagram @OhSoDelicioso for daily updates and behind the scenes eats. We are holding on to the lovely summer produce as long as we can! Especially down here in SoCal, it just seems that summer never ends in the heat of September and October. Keep up that healthy diet even when the heavy warm comfort foods are in season. To kick off a week of salad loving we are sharing a musing of products to make the green salad life easier!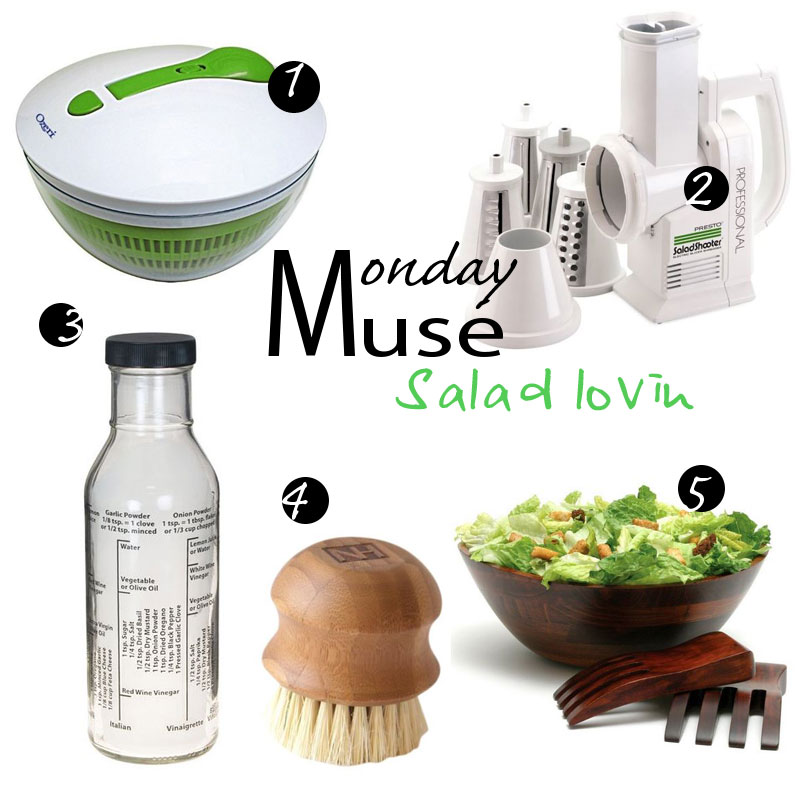 1. This is a beauty of a salad spinner. Check out this Ozeri Swiss Designed FRESHSPIN Salad Spinner and Serving Bowl, BPA-Free
.
2. If you are the type to make a daily salad.. this ktichen gadget would be your best friend. Presto Electric SaladShooter 
is where it's at.
3. Really love this Kolder Salad Dressing Bottle
. Comes with premeasured markings to create homemade dressings in minutes.
4. Scrub down those veggies with out using that dirty dish scrubber.. keep a Natural Home Veggie Brush
 around just for the veggies.
5. A salad wouldn't be complete with out a lovely serving bowl and large salad hands to present the lovely creation.. check out this Large Cherry Wavy Rim Bowl with Salad Hands
. Such a good deal!
Hang around for lots of lovely recipes!