We are unconventionally having a bit of a cake week this week. And why not!? So many parties and festivities happening over the next few months, not too mention birthdays and oodles of birthday cakes to be made! I love to make cakes and love to eat cake even more. I fell in love with this triple layer white cake a few years ago and that is what started my cake obsession. I tend to be a minimalist and naturalist when decorating aka.. I suck at fondant. Cake decorating is totally a skill that I have not yet mastered but totally admire and love to mess around with. But I have found the more rustic I keep the frosting look the better off I am. (hah!) And I have found a few essential tools that I use to make a beautiful natural cake with out a whole lot of skill.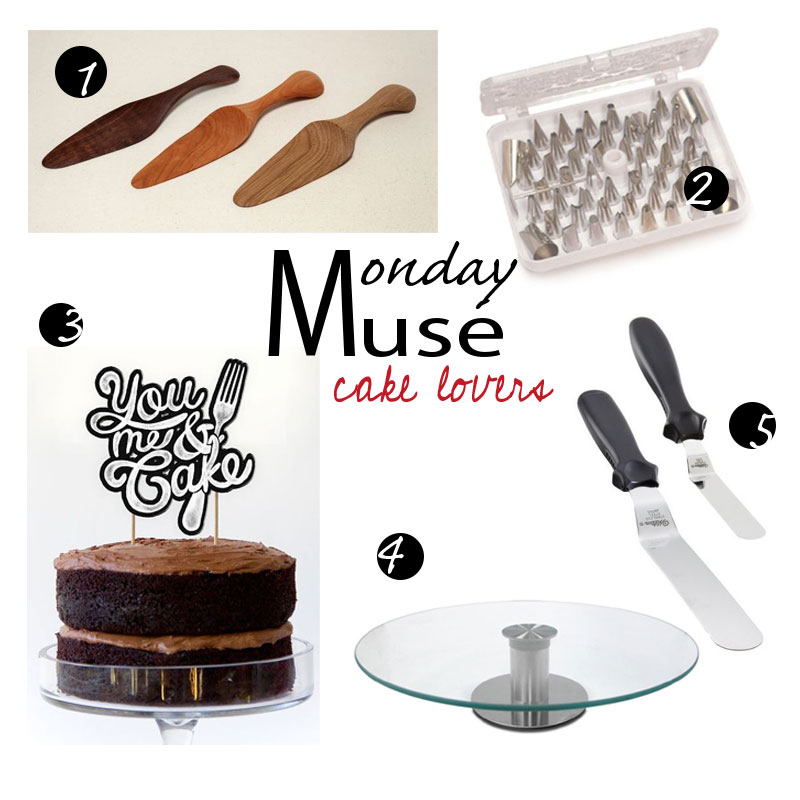 1. Soo we have a little DYI treat for you. Involving these cake/pie servers. But you will have to wait til tomorrow to find out what it is! For now you can buy one of these or anything in the RedRoad Woodworks shop 10% off. Use the PromoCode ILOVECAKE13 and have some fun!
2. When I was skimming the tools on Amazon I ran across this set of cake tips
 and was in piping heaven! Seriously, there are like a bazillion options and best of all and box to hold them all. Mine are currently free flying in make cake decorating box. And I've lost a few because of this.
3. You Me and Cake. 'Nuff Said. well not really I have more to say. But You me and cake sums up a sweet evening with my hubby. And in my sweats and a good show and truly heaven. OK.. the important things. This is a totally awesome Cake Topper. And it was handcrafted and stamped by the lovely Honey and Mint shop on etsy. AND guess what?! There is ANOTHER treat coming this week!! Thursday to be precise. (YOU MIGHT WANT TO BE FOLLOWING US ON INSTAGRAM @ohsodelicioso or @honeyandmint wink wink)
4. I am sooo in love with this cake stand
 because it is not only a cake stand but it REVOLVES!! That would make decorating so much easier and then just serve it right up when done!
5. Do your self a favor and buy one of these angled spatulas
. They make life so much easier. Don't even try icing a large cake with a butterknife. The angle make it so much easier to frost as well. They come in various sizes to match your size of cake.
Other tools not pictured here that I use regularly are: a cake leveler
, 9 inch cake rounds
, parchment paper rounds
, and decorating bags
.
Happy cake making! And stay tuned this week for some cake lovin fun!