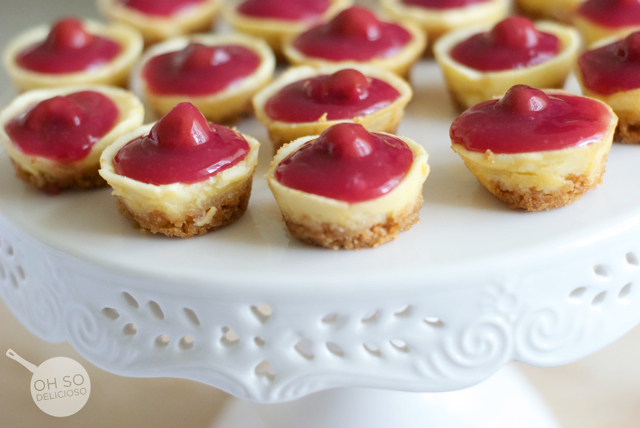 Generally, the only pie I'll eat is cherry (cough, I make a mean Cherry Pie here, cough). So when I had leftover cherry juice and cherries from the pie I made for a fundraiser, I said to myself, 'Self. I can't just let these beautiful cherries and cherry juice go to waste. What should I do with them?' Then I had a stroke of genius.
Mini-Cheesecakes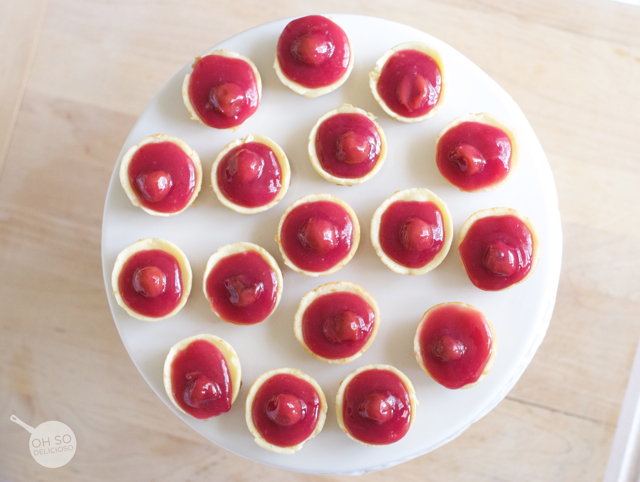 I wanted to do a cheesecake, but I reh-heh-heally wanted to try cute, little, mini cheesecake bites. Because, well, they're just cute. And all you need is one little cherry to top them off!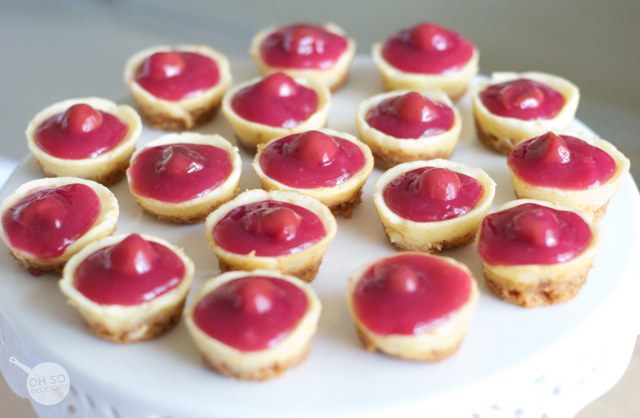 This cheesecake recipe is my Grandma Packard's. I grew up with my mom making it for my dad every year for his birthday because he loved it so. And by he, I mean I. This is an excellent cheesecake recipe, but I think one of my favorite parts is the cinnamon in the crust. Nobody expects it, and it's pretty dang sublte, to where my friend asked me what exactly it was…there was a little extra 'sumpin 'sumpin…..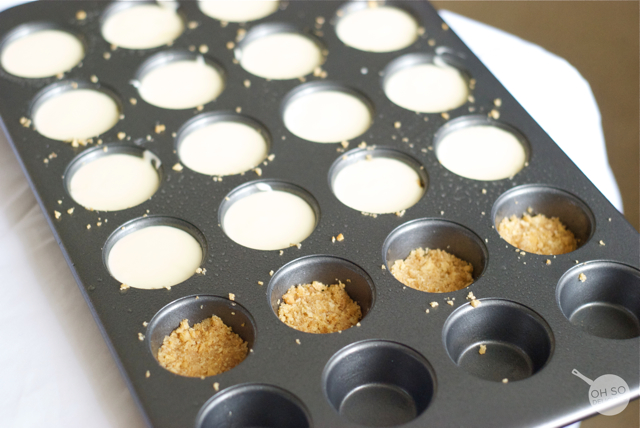 Homemade Cherry Pie Filling
Now you can get lazy here and buy some cherry pie filling, but I'm telling you, this homemade stuff is so much easier than you could ever have imagined, and tastes one thousand times more delicious. At least. Probably more like one million times better. And preservative/fake stuff-free. And did I mention easy? The rich, tart topping compliments the rich filling perfectly.
Can we talk about how cute these are?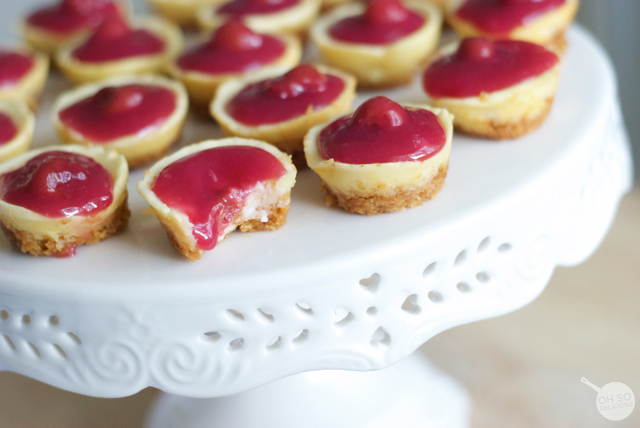 Cherry Cheesecake Bites
creamy cherry cheesecake bites
Keyword:
cherry cheesecake
Ingredients
Cheesecake

3/4

c

graham crackers

crushed

3

T

melted butter

1 1/2

T

sugar

1/2

t

cinnamon

8

oz.

cream cheese

room temperature

1/2

c

sugar

1

t

vanilla

1

T

lemon juice

2

eggs
Cherry Topping
1/2

c

canned

pitted cherries

1/2

c

cherry juice from canned cherries

1/2

c

sugar

2 1/2

T

flour

1/8

t

salt

2

T

butter
Instructions
Spray muffin tin with cooking spray, preheat oven to 350 degrees.


Make crust by mixing graham cracker crumbs, butter, sugar, and cinnamon by hand. Press mixture into tins to until each tin 1/4 full.


Make cheesecake filling by creaming soft, room temperature cream cheese with mixer until fluffy. Whip in sugar, vanilla, lemon juice, then eggs until incorporated well. Pour about 1 tablespoon of cheesecake filling into each tin, no more than 3/4 full.


Bake cheesecake bites 10-11 minutes until puffy on the edges, and before any significant browning takes place.


Remove from oven, let cool in pan until mostly cooled, and cheesecake bites have pulled away from from the tin edges.


Remove bites from tins gently with a dull knife and finish cooling on cooling rack. Once completely cooled, refrigerate.


Make cherry topping by simmering cherry juice with sugar, flour, and salt. Whisk until flour is completely incorporated, simmer 1-2 minutes until slightly thickened. Remove from heat, add butter, mix until melted. Add cherries to mixture. Refrigerate until cool.


Once cheesecakes and topping are both chilled, top bites with topping, including one cherry on each bite. Serve.

Nutrition Facts
Cherry Cheesecake Bites
Amount Per Serving
Calories 228
Calories from Fat 108
% Daily Value*
Fat 12g18%
Cholesterol 60mg20%
Sodium 185mg8%
Potassium 70mg2%
Carbohydrates 26g9%
Protein 2g4%
Vitamin A 440IU9%
Vitamin C 0.6mg1%
Calcium 29mg3%
Iron 0.6mg3%
* Percent Daily Values are based on a 2000 calorie diet.